Free concrete5 demo installation


concrete5 Logo
Want to quickly see how the open-source software concrete5 works? You'll find a free and updated demo installation of concrete5 here.
Before using this demo please notice:
Option 1: Shared and self resetting concrete5 demo
There is a public demo installation of concrete5 which is shared with others and resets itself hourly. You can access it by visiting the following link:
Option 2: Request your own concrete5 demo installation
You can request a own demo instance with a lifetime of 24 hours. This is ideal if you don't want to have your settings overwritten by other users of this website. Just use the following form and receive a link to your free custom instance within seconds:
About concrete5
What is Concrete5
Concrete5 CMS is a free open source content management system built in PHP. It uses an MVC (Model-View-Controller) architecture and object-oriented programming with built in core features. Concrete5 development first started in 2003 as a rapid way to create the new LewisAndClark200.org website. What was supposed to be a quick and easy to use solution for a single website, turned into one of the most popular content management systems used. In October 2008 it was named "Project of the Month" by SourceForge. Although its market share could never compete with WordPress, Joomla or Drupal, by 2011 it had registered the highest growth compared to any other CMS according to Open Source CMS Market Share Report. In 2015 it is reported that 0.2% of all the websites were using Concrete 5 as a CMS.
Even though the software evolved and expanded its features thanks to the active community of developers behind it, it followed the same principles: to have a design that's easy to use by everyone, including non technical people. In that aspect, it can be considered similar to a wiki software, as users can edit their Concrete5 website directly from the page. It also provides version management for every page, so if you want to work on your content or your blog, you can always go back to a previous version. The management of media files was also simplified, allowing users to edit their pictures directly from an editor embedded in the page.
Setting up a Concrete5 CMS demo
The screenshots below will give you a preview of how a Concrete5 admin panel looks like, how you can build or edit a new page. To get a complete Concrete5 review you can click on the links above to login to our Concrete5 CMS demo. The first thing you'll notice is that the backend and frontend of our online demo look the same, except the options bar at the top that you'll see in the admin demo. You can customize the way your website looks by clicking on the design tab. Here you can choose a page template that suits your needs and choose a Concrete5 theme. If you don't like the demo theme provided by the software you can always download and install another Concrete5 theme. There are a lot of Concrete5 themes, plugins or modules developed by the community that will improve the appearance of your Concrete5 demo site and extend its functionality.
If you don't want to try Concrete5 online and want to set up your own Concrete5 demo site, you'll need a hosting provider, a web server with PHP 5.5.9+, MySQL 5.1.5 or higher, or MariaDB and MySQL InnoDB Table Support. After you download and unzip the archive on your server, run the install wizard and you'll be good to go. If you run into any problems, like setting up the wrong folder permissions you can always search for a tutorial that will explain what you need to do so your demo installation works.
Start adding content to your Concrete5 website, create new pages and write a blog. This will allow you to customize the design and choose a theme that fits your branding strategy. One of the most important Concrete5 features is easy maintenance. While other content management systems were built by developers for developers, Concrete5 makes it easy for everyone to create and maintain their own website. By using the latest HTML, CSS and Javascript techniques, the software also offer mobile responsive designs. You can also collect user data through their marketing tools, or easily build forms to keep in touch with your visitors.
You can easily optimize your Concrete5 website for search engines without any additional code or add-ons required. Add Social Media buttons through the powerful social share plugin and keep the conversation going with your audience. There are many successful Concrete5 examples all over the world thanks to the language packs which can be easily installed. If you need any kind of help or you have other development needs, the community offers training and commercial support as well as end-to-end solutions.
The latest stable Concrete5 version is 8.3.2 which was released on January 22nd, 2018 under the MIT license. If you want to download the latest version you can follow the link below to their official website where you will find all the information you need about this new version and what you need to do in order to install it.
Key Facts
| | |
| --- | --- |
| CMS name | concrete5 |
| User rating | |
| CMS Categories | CMS / Portals |
| Current version (stable) | 8.3.2 |
| Latest release date (stable) | 01/22/2018 |
| First release date | Unknown |
| License | The MIT License |
| Supported languages | English, Japanese |
| CMS Demo available | (see above) |
| Admin Demo available | (see above) |
| Helpful Links | |
Screenshots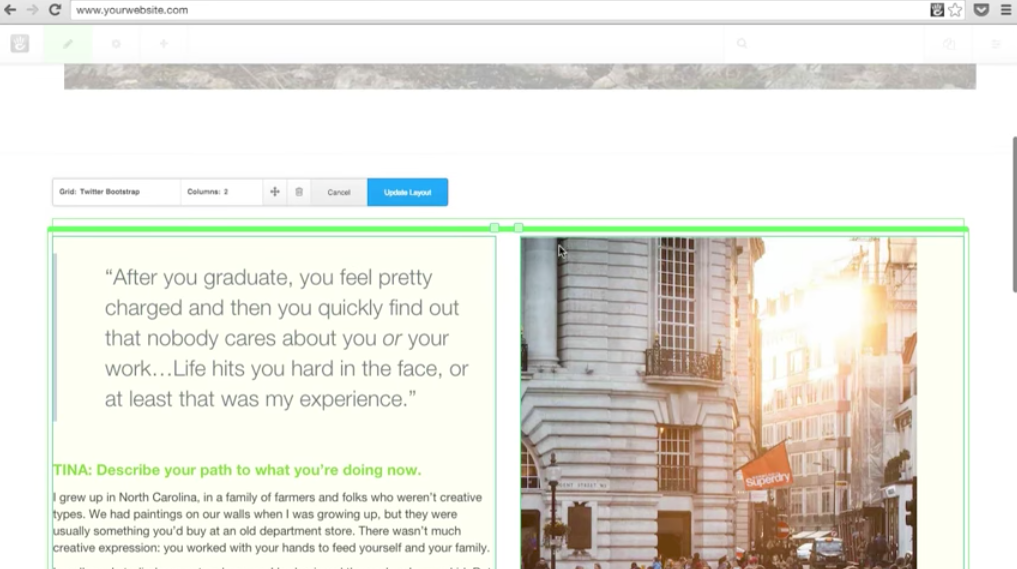 Page Editor Preview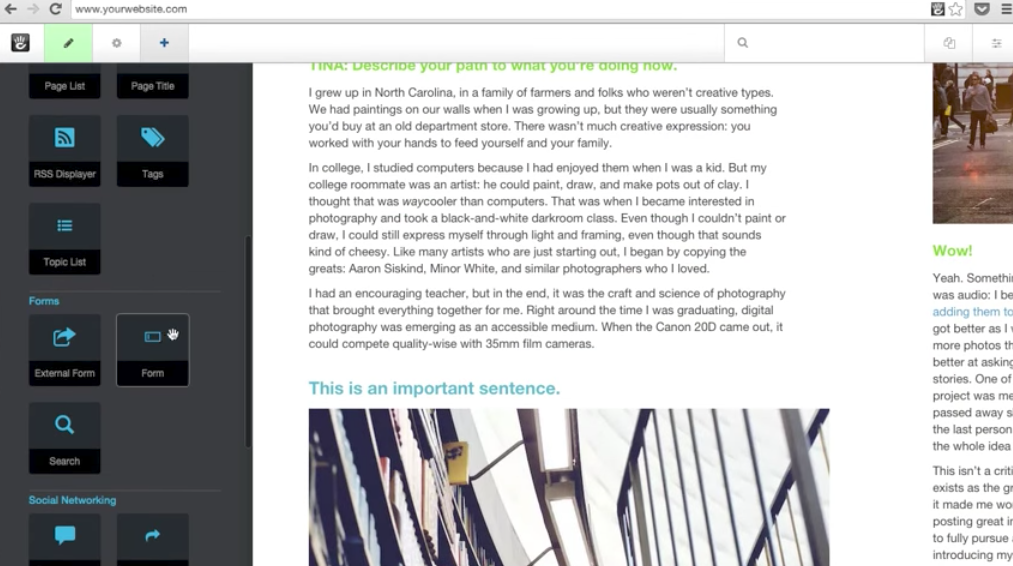 In-context editing toolbar Preview