Free Anchor CMS demo installation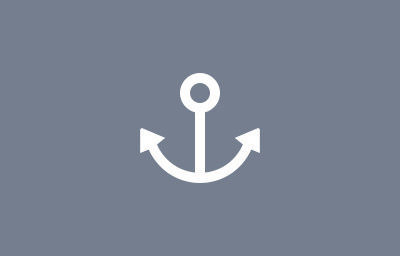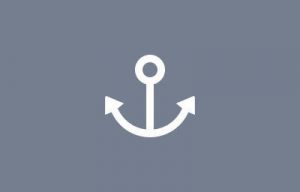 Anchor CMS Logo
Want to quickly see how the open-source software Anchor CMS works? You'll find a free and updated demo installation of Anchor CMS here.
Before using this demo please notice:
Option 1: Shared and self resetting Anchor CMS demo
There is a public demo installation of Anchor CMS which is shared with others and resets itself hourly. You can access it by visiting the following link:
Option 2: Request your own Anchor CMS demo installation
You can request a own demo instance with a lifetime of 24 hours. This is ideal if you don't want to have your settings overwritten by other users of this website. Just use the following form and receive a link to your free custom instance within seconds:
About Anchor CMS
Anchor CMS is a free open source blogging system with lightweight features especially designed to focus on writing and art-directed blogs. The admin interface shows only the essential features, like creating a new post, creating pages, managing comments, categories and users and creating custom fields. Contribution to the project on Github is highly encouraged, so if you have the skills you can help develop new features or themes for this content management system.
To get a complete review of this CMS you can click on the links above to see how an Anchor CMS demo looks like. The admin demo will walk you through the available features and you can customize the appearance of the online demo through themes. You can also set up your own Anchor CMS demo clicking on the link below to download the archive from Github. The screenshots below will give you a preview of how the admin demo looks like.
Some examples of features include easy installation, the ability to add custom CSS, JavaScript, and HTML and drag and drop functionality. If you are setting up your own Anchor CMS online demo, make sure you comply with server requirements first. You will need PHP 5.6+ and some PHP extensions installed and MySQL 5.2+. In order to keep it lightweight, Anchor CMS only supports modern browsers, so don't expect it to work on IE 6, 7 or 8. The latest version available for download is 0.12.7 and was released on March 7, 2018.
Key Facts
Screenshots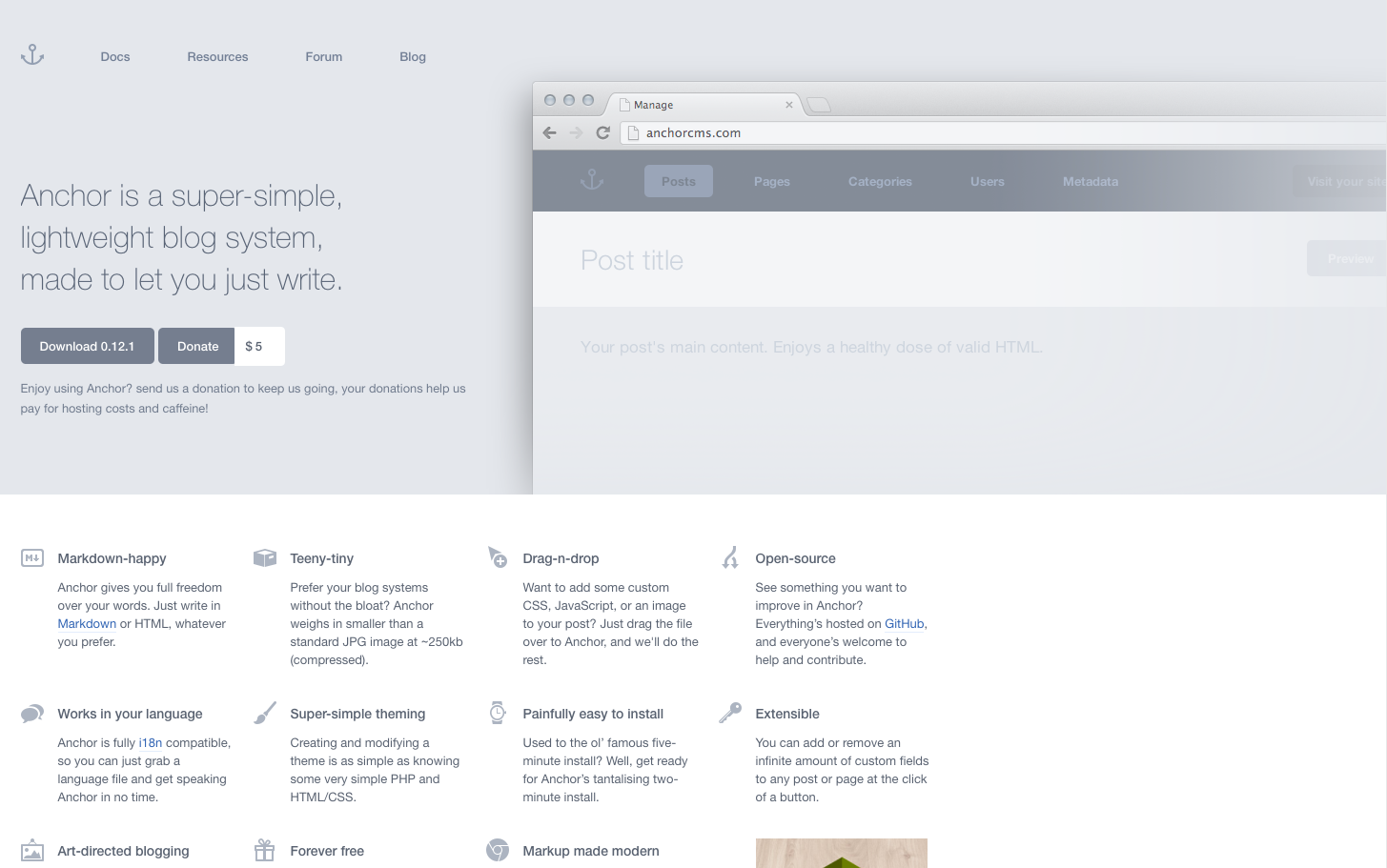 Anchor CMS Website

Anchor CMS Admin Demo - Dashboard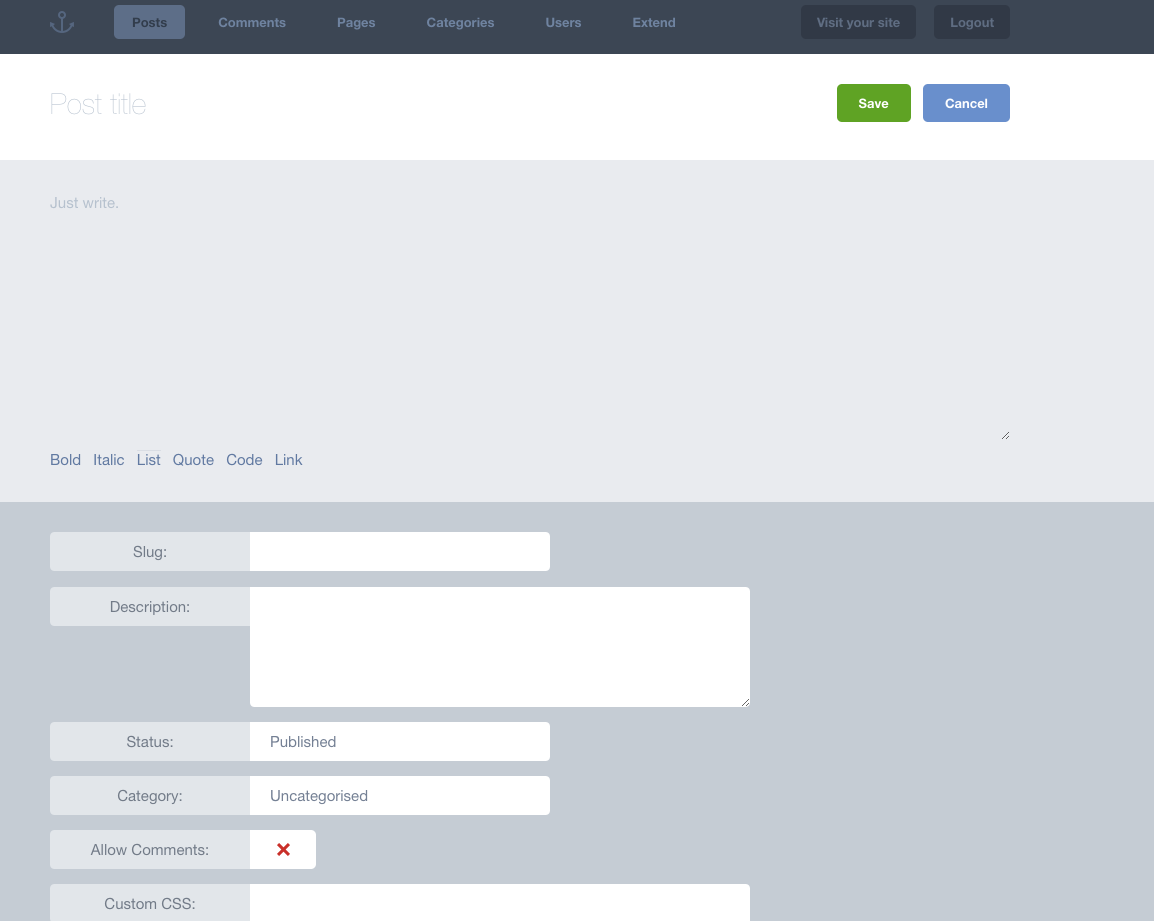 Anchor CMS Admin Demo - Add New Post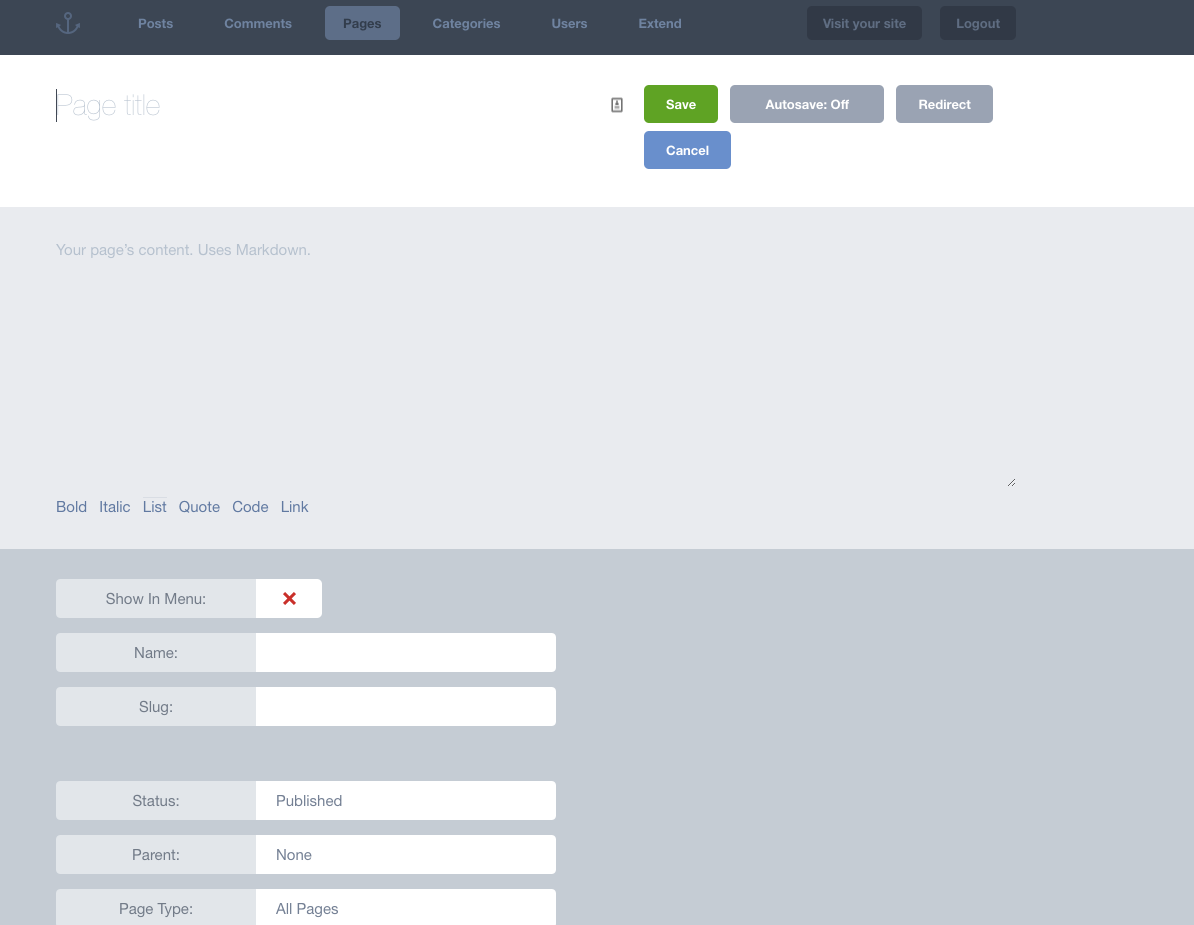 Anchor CMS Admin Demo - Add New Page