Free CSZ CMS demo installation

CSZ CMS Logo
Want to quickly see how the open-source software CSZ CMS works? You'll find a free and updated demo installation of CSZ CMS here.
Before using this demo please notice:
Option 1: Shared and self resetting CSZ CMS demo
There is a public demo installation of CSZ CMS which is shared with others and resets itself hourly. You can access it by visiting the following link:
Option 2: Request your own CSZ CMS demo installation
You can request a own demo instance with a lifetime of 24 hours. This is ideal if you don't want to have your settings overwritten by other users of this website. Just use the following form and receive a link to your free custom instance within seconds:
About CSZ CMS
CSZ CMS is an open source web application that allows to manage all content and settings on the websites. CSZ CMS was built on the basis of Codeigniter and design the structure of Bootstrap, this should make your website fully responsive with ease.
CSZ CMS is based on the server side script language PHP and uses a MySQL or MariaDB database for data storage. CSZ CMS is open-source Content Management System. And all is free under the Astian Develop Public License (ADPL)
Features for CSZ CMS
Easy to installer.
Easy to edit content with TinyMCE Text Editor.
Bootstrap Templates Structure.
Multilingual for frontpage.
Automatic Sitemap Generator on backend system with one click.
Search Engine Optimization support.
Database and file backups on backend system.
Automatic Upgrade to new version with one click.
Statistic for all link in content.
Upload tools file manager on backend.
Article plugin build-in system.
Gallery plugin build-in system (Images and Youtube).
Brute Force Protection.
Error logs download on backend system.
Pages cache for performance.
User management for Admin, Editor, Member.
Group and Permission Management.
Widget system for content.
Banner Manager.
Cache system for performance.
Server Requirements
Best on browsers FireFox, Chrome, Safari, IE9.
Apache Server.
PHP 5.3.7 or higher.
MySQL 5.0 or higher (Recommend for MySQLi Driver).
Apache MOD_REWRITE Enabled.
PHP cURL Enabled.
gZip Compression Enabled.
Key Facts
| | |
| --- | --- |
| CMS name | CSZ CMS |
| User rating | |
| CMS Categories | CMS / Portals |
| Current version (stable) | 1.2.9 |
| Latest release date (stable) | 05/31/2020 |
| First release date | Unknown |
| License | The MIT License |
| Supported languages | English, Dutch, Italian, Spanish |
| CMS Demo available | (see above) |
| Admin Demo available | (see above) |
| Helpful Links | |
Screenshots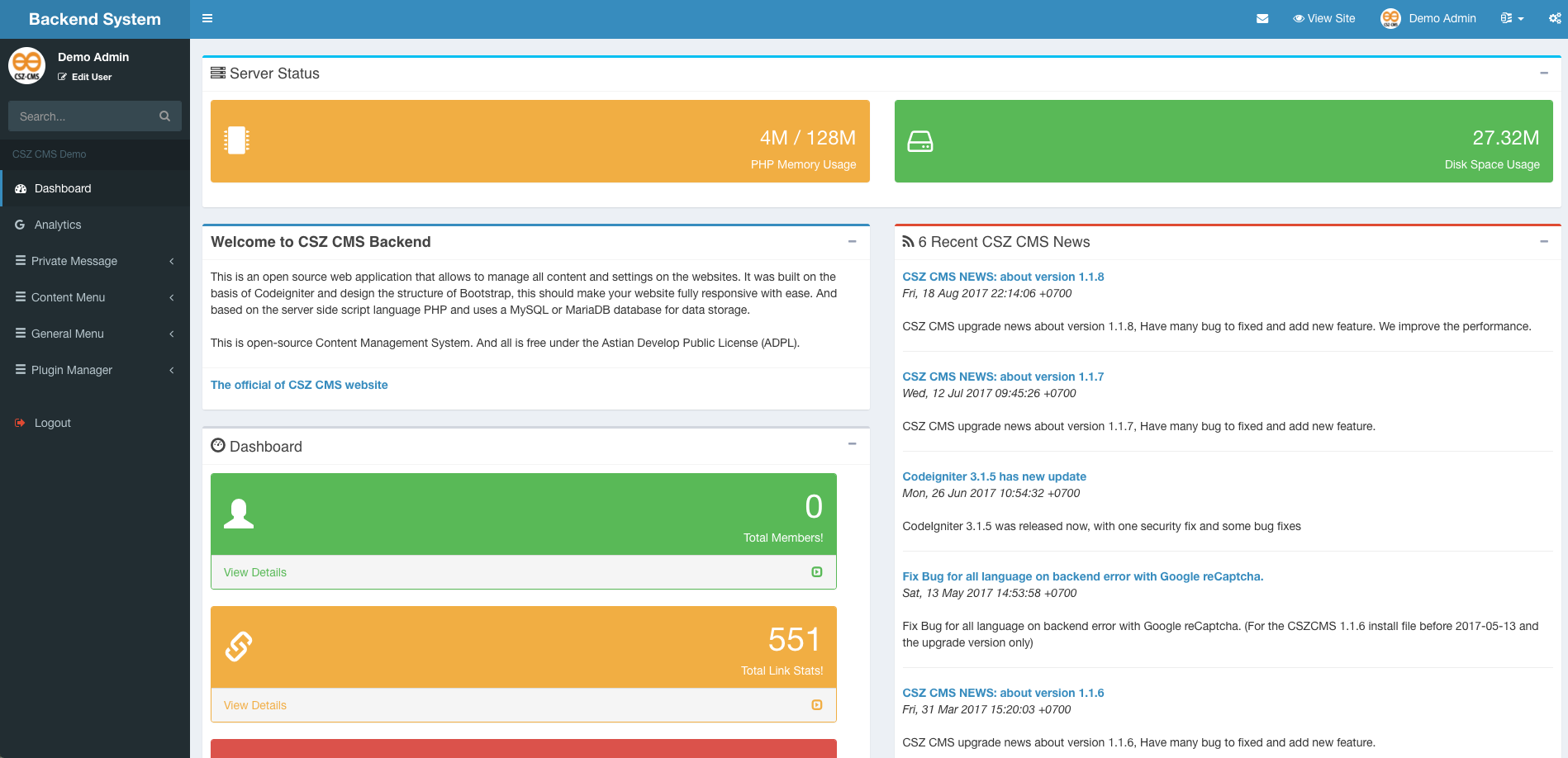 Backend Preview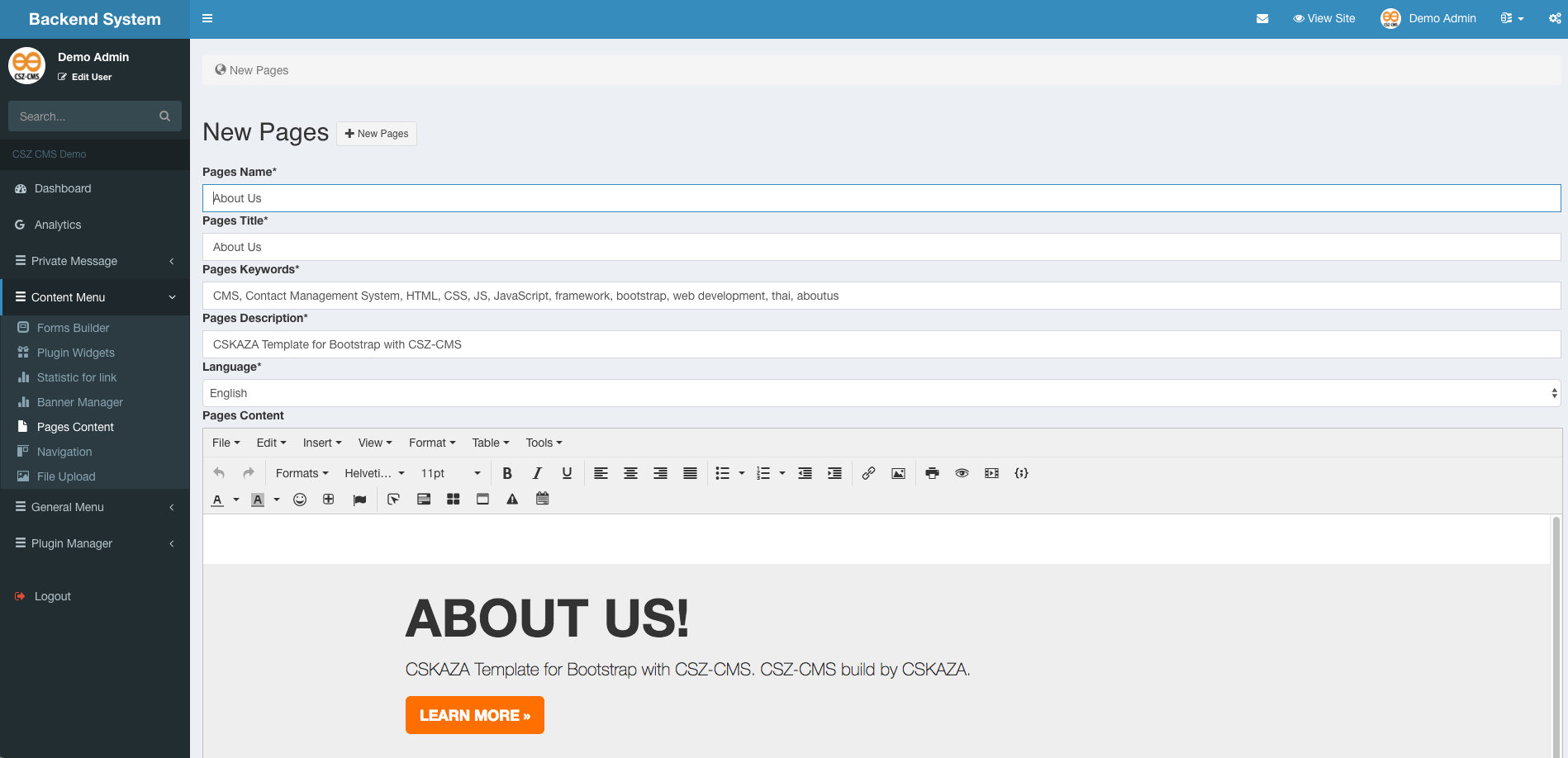 Editor Preview