Free DokuWiki demo installation

DokuWiki Logo
Want to quickly see how the open-source software DokuWiki works? You'll find a free and updated demo installation of DokuWiki here.
Before using this demo please notice:
Option 1: Shared and self resetting DokuWiki demo
There is a public demo installation of DokuWiki which is shared with others and resets itself hourly. You can access it by visiting the following link:
Option 2: Request your own DokuWiki demo installation
You can request a own demo instance with a lifetime of 24 hours. This is ideal if you don't want to have your settings overwritten by other users of this website. Just use the following form and receive a link to your free custom instance within seconds:
About DokuWiki
DokuWiki CMS is an Open Source wiki software created using PHP that works on plain text files and allows users to create and edit pages using a web browser. Thanks to its flexibility, simple to use syntax and the fact that it doesn't require a database, the DokuWiki CMS grew its popularity and proved its utility amongst a high group of users.
While DokuWiki was officially released in July 2004 by Andreas Gohr, the CMS started to gain traction after a series of improvements that included a fresh new design, the ability to handle bigger documentation projects and the introduction of a generic plugin interface that paved the way for future development, easy maintenance and add-ons. All these changes led to the introduction of the DokuWiki CMS in the Linux distributions Debian and Gentoo Linux in July 2005, which significantly boosted its reputation.
Since then the DokuWiki community grew and new releases focused on bugfixes, support for new technologies and user interface improvements. Setting up a DokuWiki demo is extremely easy and you can even customize the download by choosing the version, languages and most popular plugins you want to install on your online demo. A quick DokuWiki review will prove that this Wiki software has many advantages compared to similar software and supports customization on different levels of expertise. For example, you can login to your admin demo and configure some of the DokuWiki features using the Configuration Manager, download plugins and templates developed by the community or even develop your own extensions.
The DokuWiki features include access control levels where an admin can provide users with different permissions, turning it into the perfect collaborative tool for teams, workgroups, small to medium sized companies or a corporate knowledge base. The revision control feature keeps track of any changes and allows users to compare current versions of one page to older ones, while also preventing multiple users from editing a page at the same time through a locking mechanism. While it was originally intended as a lightweight CMS DokuWiki began resembling a more conventional Content Management System thanks to its constant development.
Two of the most important DokuWiki features are the plugins, which can be easily integrated and managed using the plugin manager, and customizing the appearance of your wiki page through templates. The DokuWiki themes are provided by the development community and you can browse through examples, click on them for preview, download the one you like and install it on your DokuWiki demo site to see how it will look. However, some features of the DokuWiki themes change as new versions get released, so the best thing you can do is choose a template that was released at the same time or after the CMS version you are using.
Just like any other CMS DokuWiki is focused on making life easier for its users by providing support for over 50 languages and low system requirements. It's device independent and a simple DokuWiki demo shows how easy the installation process is and that you don't have to try too hard to understand how everything works. DokuWiki is available free of charge under the GNU General Public License Version 2 and there are a number of ways you can give back to the community. You can share your experience and submit a full DokuWiki review, mention bugs or new features you'd like to see, get involved in the translation of the DokuWiki interface or answer questions in the forum.
Key Facts
| | |
| --- | --- |
| CMS name | DokuWiki |
| User rating | |
| CMS Categories | CMS / Portals, Wiki |
| Current version (stable) | 2017-09-24 "snapshot" |
| Latest release date (stable) | 09/24/2017 |
| First release date | Unknown |
| License | GNU General Public License version 2 |
| Supported languages | English, Arabic, Bulgarian, Catalan, Chinese, Croatian, Czech, Danish, Dutch, Finnish, French, German, Greek, Hebrew, Indonesian, Italian, Japanese, Korean, Latvian, Lithuanian, Norwegian, Polish, Portuguese, Romanian, Russian, Serbian, Slovak, Slovenian, Spanish, Swedish, Ukrainian, Vietnamese |
| CMS Demo available | (see above) |
| Admin Demo available | (see above) |
| Helpful Links | |
Screenshots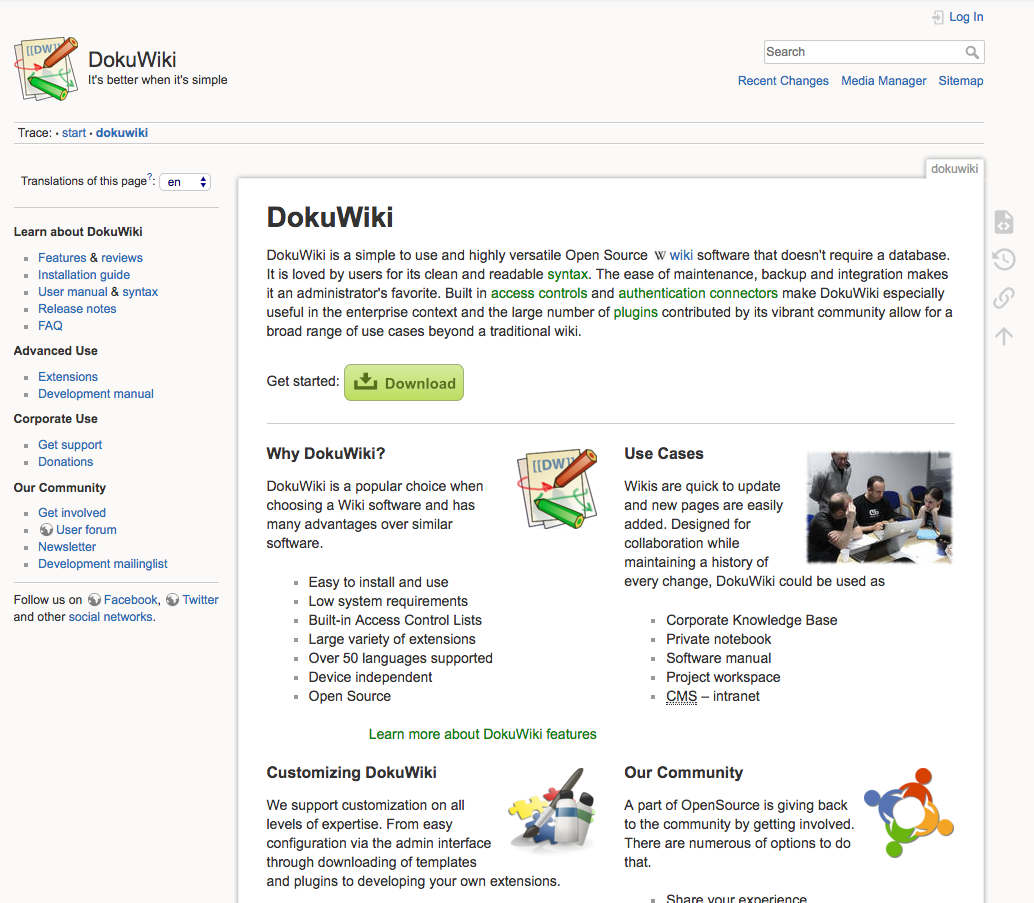 DokuWiki website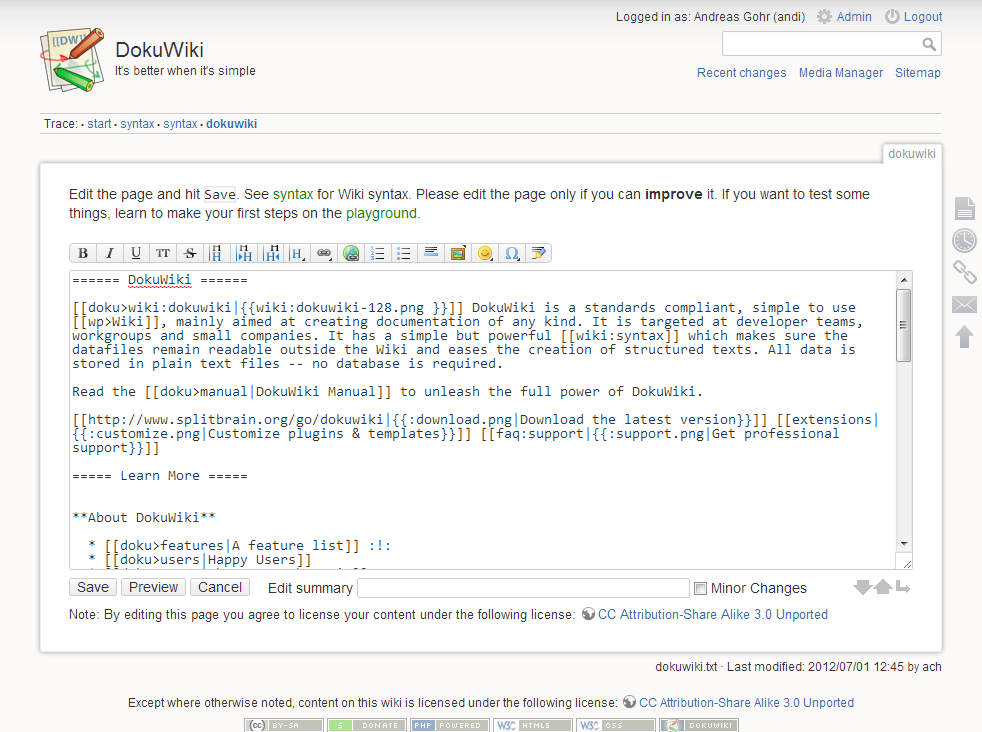 Dokuwiki Admin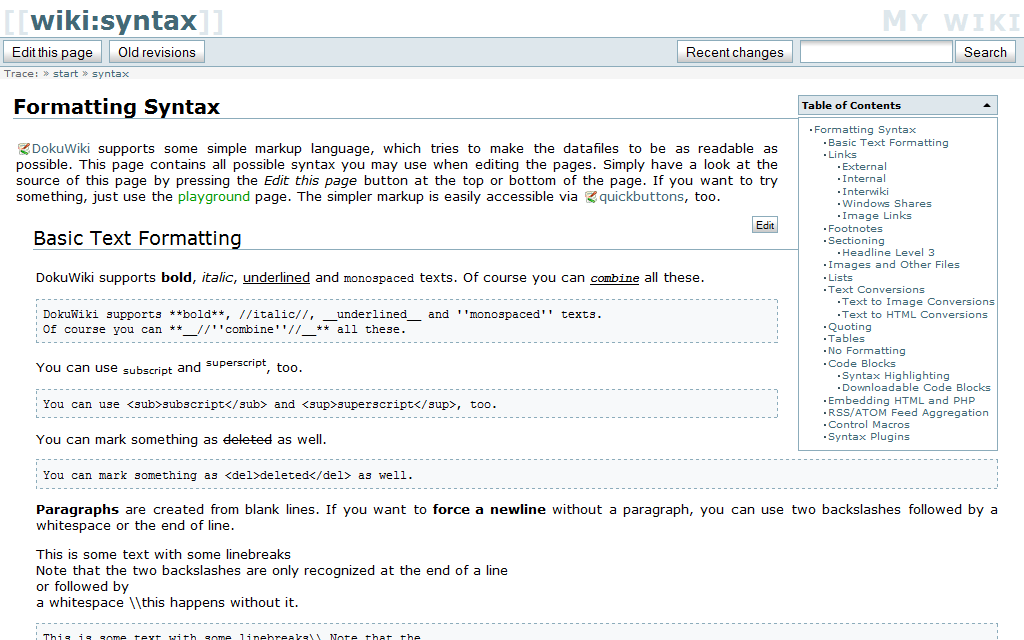 Dokuwiki Admin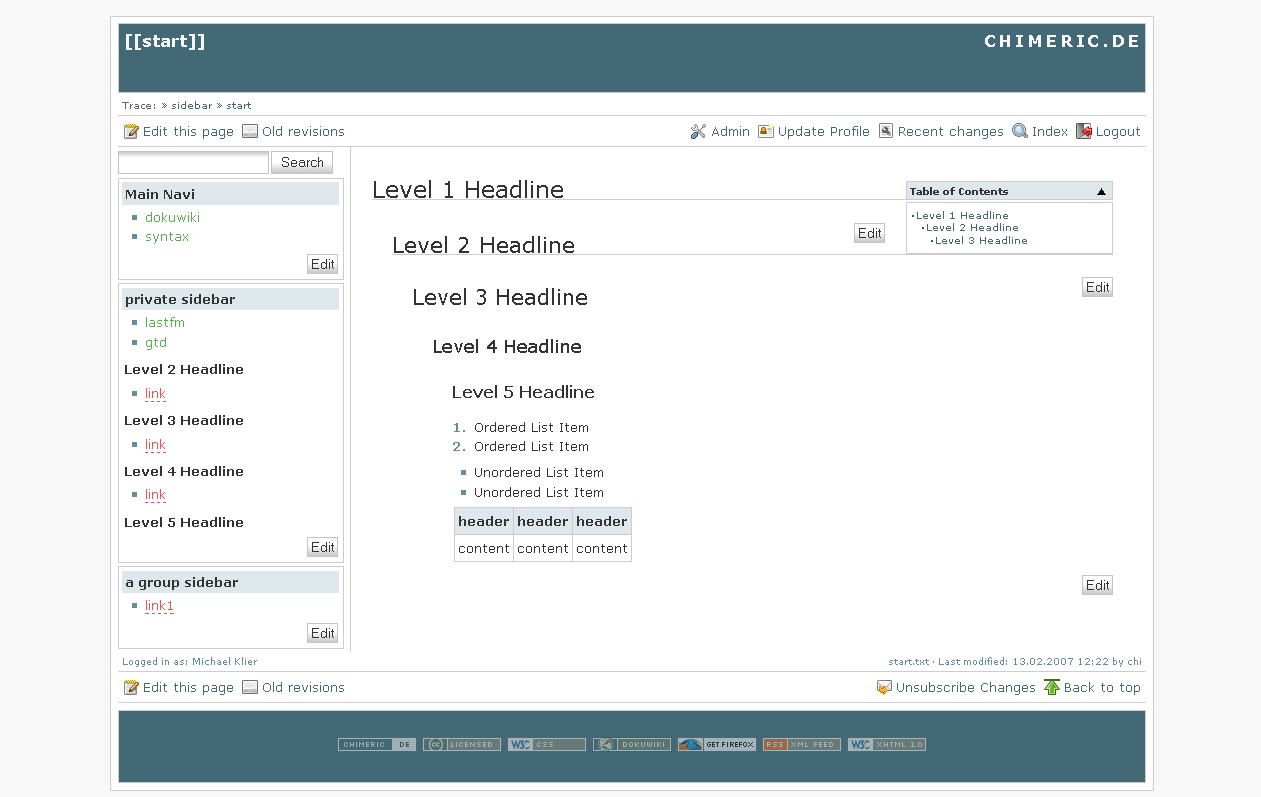 Dokuwiki Arctic Theme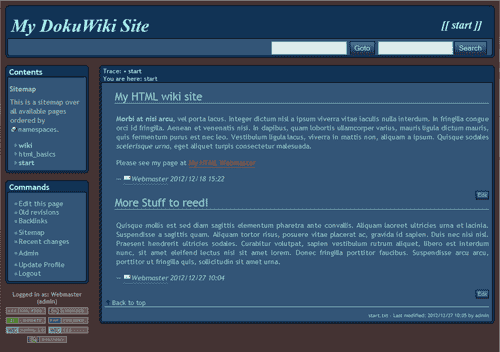 Dokuwiki Theme Example