Free Dynamix demo installation
Want to quickly see how the open-source software Dynamix works? You'll find a free and updated demo installation of Dynamix here.
Before using this demo please notice:
We are currently updating the Dynamix demo. Please check back shortly. There will be a new version up soon.
About Dynamix
Dynamix CMS is a free open source content management system based on the Microsoft's .NET platform. The content management system was first launched in 1999 by Swedish company Initiva AB and was based on ASP technology. Since then its features and the technology used changed when it moved to using .NET in 2004 with the launch of Dynamix CMS version 4. Dynamix CMS is very user-friendly for both developers and editors, focusing on providing an easy and fast management of information.
If you want to get a complete review of this content management system you can follow the link below to go to their official website and request a Dynamix demo. You can also create your own Dynamix demo site by downloading the archive using the link below. For a successful installation you will need a .NET Framework 4.5 or newer, a Windows 7 or 8 web server operating system and a SQL Server 2008, 2012 or 2014. After you go through the installation process, login to your admin demo to better understand its features. The screenshots below will give you a preview of how an admin demo looks like and how you can customize your online demo using themes. Dynamix CMS allows you to design your own themes or extend its features by creating new modules.
Some examples of features include WYSIWYG editor, single sign on, page and content management, permission system, file management, drag and drop functionality and integration with Google Analytics. The latest version available for download is Dynamix CMS 6 and was released in 2015.
Key Facts
| | |
| --- | --- |
| CMS name | Dynamix |
| User rating | |
| CMS Categories | CMS / Portals |
| Current version (stable) | 6 |
| Latest release date (stable) | 01/01/2015 |
| First release date | 01/01/1999 |
| License | The MIT License |
| Supported languages | English |
| CMS Demo available | (see above) |
| Admin Demo available | (see above) |
| Helpful Links | |
Screenshots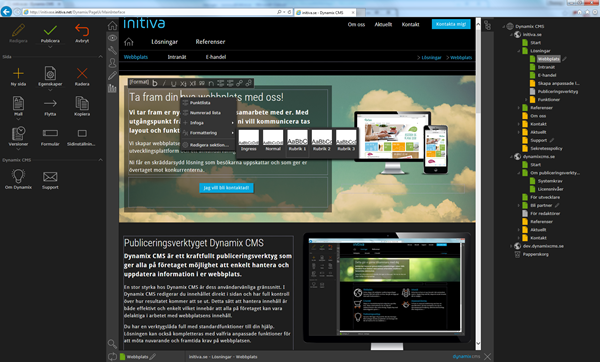 Dynamix CMS Demo Dashboard
Dynamix CMS Admin Demo - Google Analytics Integration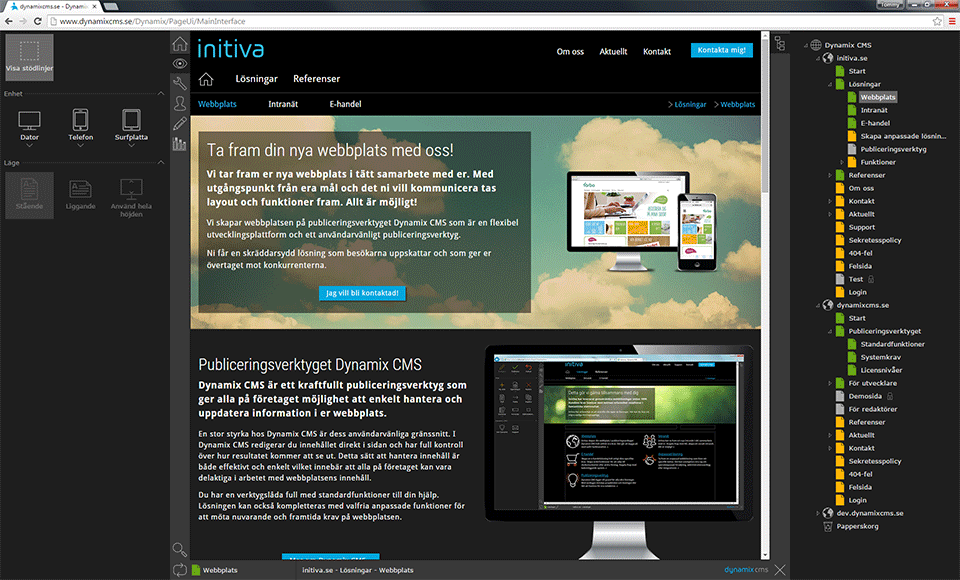 Dynamix CMS Responsive Design