Free eFront demo installation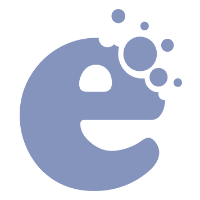 eFront Logo
Want to quickly see how the open-source software eFront works? You'll find a free and updated demo installation of eFront here.
Before using this demo please notice:
Option 1: Shared and self resetting eFront demo
There is a public demo installation of eFront which is shared with others and resets itself hourly. You can access it by visiting the following link:
Option 2: Request your own eFront demo installation
You can request a own demo instance with a lifetime of 24 hours. This is ideal if you don't want to have your settings overwritten by other users of this website. Just use the following form and receive a link to your free custom instance within seconds:
About eFront
eFront is a learning management system developed in PHP created to assist in the creation with the creation of online learning communities. It is a well known open source learning system with features similar to Moodle. The project began in 2001 as a research prototype founded by the Greek government, under the supervision of Dimitris Tsingos and Athanasios Papangelis. The first stable version was 2.5 and was published in 2005. Two years later went through a complete rewrite and was published under an open source license.
If you want to get a complete review of eFront features you can follow the link below to their official website and create a free account where you can see the eFront demo in action. You can also schedule and online eFront demo at their official website. The online demo will walk you through its features and give you a better sense of what it can do. Some examples of features include course management, ability to create custom surveys, file repository, certificates, internal email, calendars, discussion forums and comments. The screenshots below will give you a preview of how an admin demo looks like and what are the various opportunities for collaboration and interaction through an icon-based user interface.
Depending on the number of users and your business needs, eFront offers different pricing plans, but all of them come with free support. Features can differ depending on the plan you choose. For example, the Enterprise plan offers single sign on, skill gap testing for employees and advanced reporting. eFront LMS is also customizable and you can change the appearance of your demo site through themes. The portal's functionality can also be extended through plugins. The latest version available for purchase is 3.6.15.5 and was released on May 15, 2015 under the CPAL license.
Key Facts
| | |
| --- | --- |
| CMS name | eFront |
| User rating | |
| CMS Categories | CMS / Portals, LMS / LCMS |
| Current version (stable) | 3.6.15.5 |
| Latest release date (stable) | 05/15/2015 |
| First release date | Unknown |
| License | Common Public Attribution License |
| Supported languages | Albanian, Arabic, Brazilian, Bulgarian, Catalan, Chinese Simplified, Chinese Traditional, Croatian, Czech, Danish, Dutch, English, Filipino, Finnish, French, Galician, Georgian, German, Greek, Hebrew, Hindi, Hungarian, Indonesian, Italian, Japanese, Korean, Latin American, Latvian, Lithuanian, Norwegian, Persian, Polish, Portuguese, Romanian, Russian, Serbian, Slavicmacedonian, Slovak, Slovenian, Spanish, Swedish, Tajik, Thai, Turkish, Ukrainian, Urdu, Uzbek, Vietnamese |
| CMS Demo available | (see above) |
| Admin Demo available | (see above) |
| Helpful Links | |
Screenshots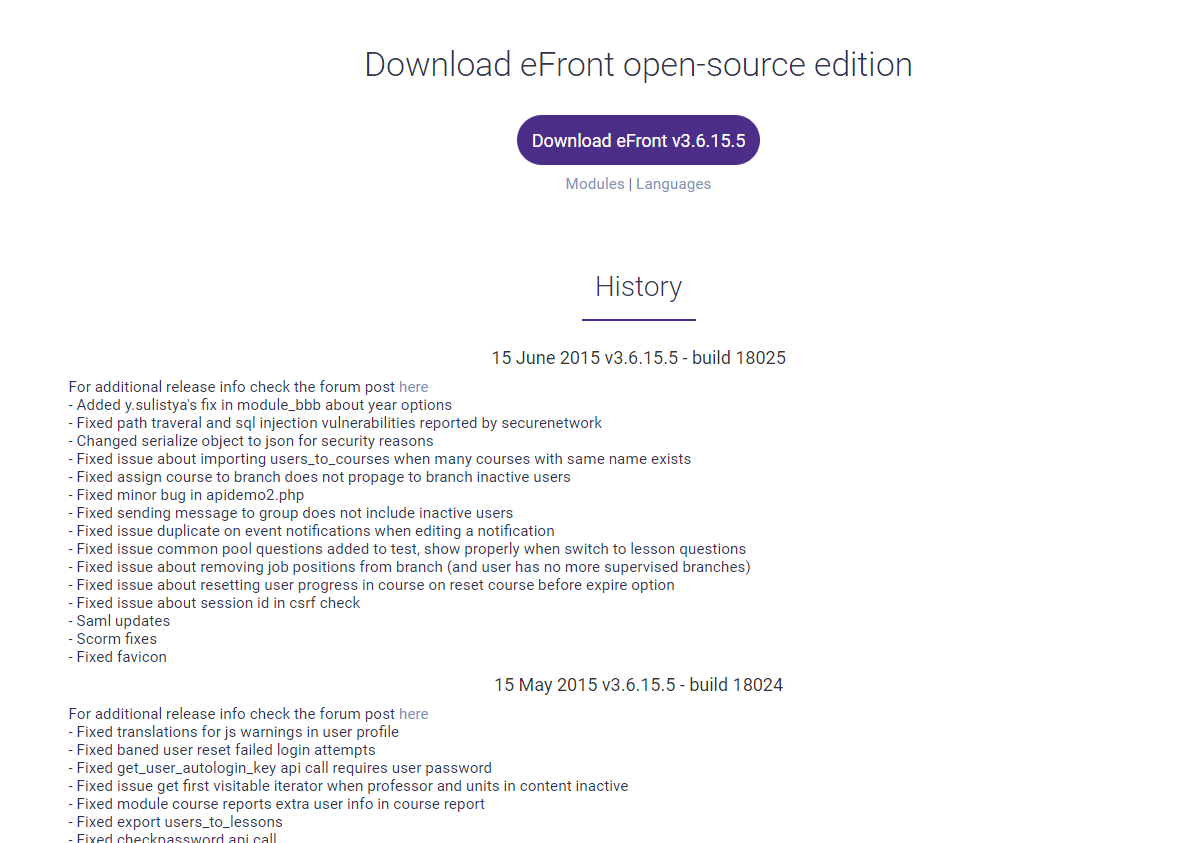 eFront download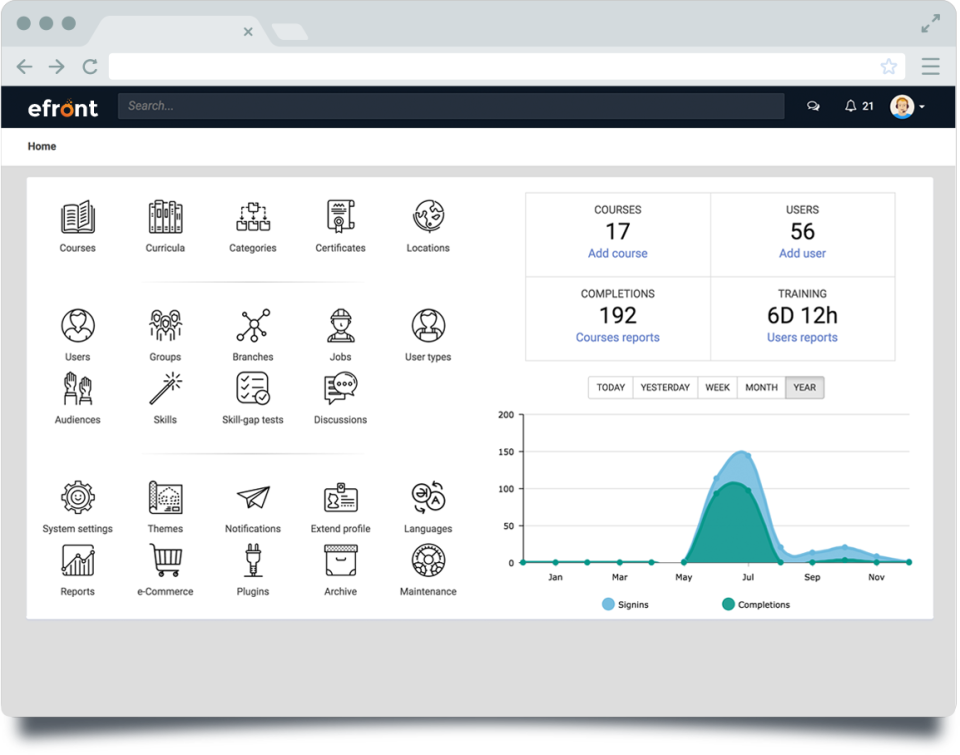 eFront Admin Demo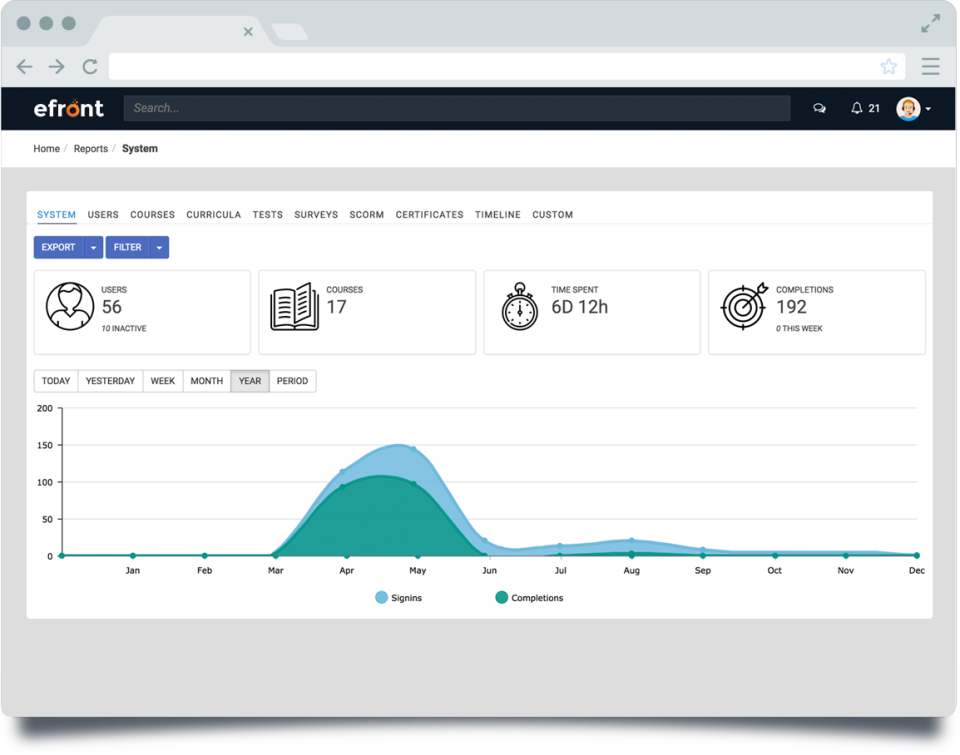 eFront Dashboard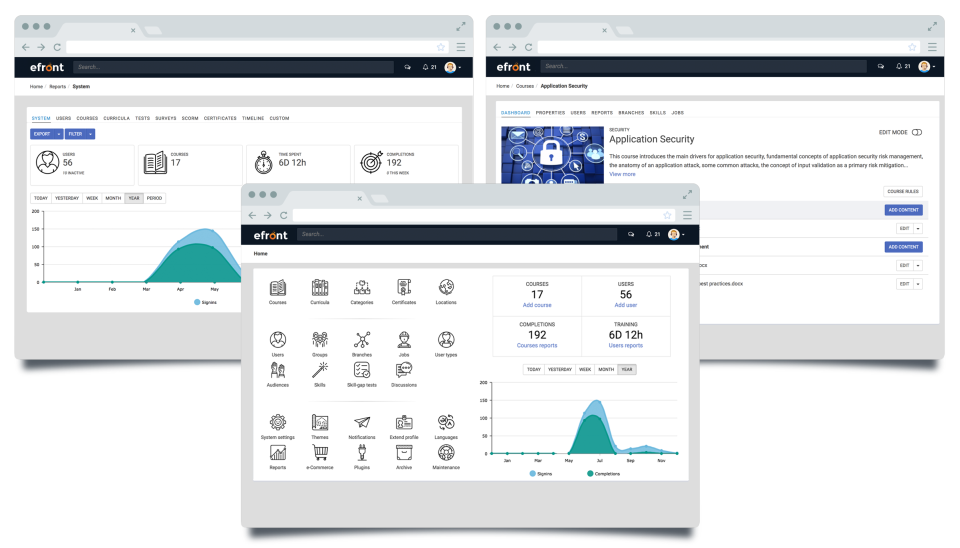 eFront Demo Features