Free Elgg demo installation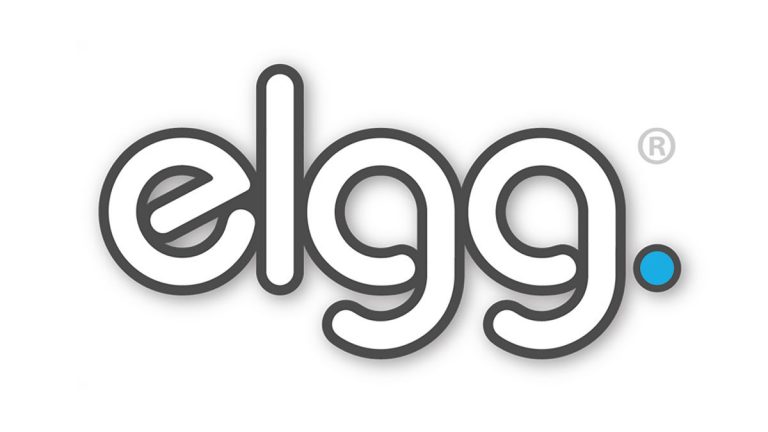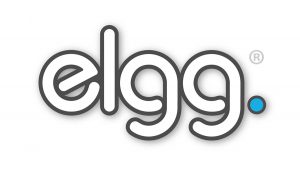 Elgg Logo
Want to quickly see how the open-source software Elgg works? You'll find a free and updated demo installation of Elgg here.
Before using this demo please notice:
Option 1: Shared and self resetting Elgg demo
There is a public demo installation of Elgg which is shared with others and resets itself hourly. You can access it by visiting the following link:
Option 2: Request your own Elgg demo installation
You can request a own demo instance with a lifetime of 24 hours. This is ideal if you don't want to have your settings overwritten by other users of this website. Just use the following form and receive a link to your free custom instance within seconds:
About Elgg
Elgg is a free open source social networking software developed using PHP. Its main purpose is to create an online environment for users and groups with a common interest, a place where they can create a community. The development of Elgg by Ben Werdmuller and Dave Tosh back in 2004 is particularly important, as it's the first platform to approach e-learning software by implementing ideas from commercial social networking platforms. Elgg features such as blogging, file sharing and networking have turned it into a cross-purpose open source social networking platform.
If you're interested in getting a complete Elgg review you can try our online demo by using the links above. Just login to the admin demo and manage your community. The screenshots below will give you a preview of how the login area looks like. If you want to set up your own Elgg demo site you can download the software using the link below and going through the installation process. To set up your own Elgg online demo you will a webserver with support for URL rewriting, MySQL 5+ and PHP 5.6+ with the GD extension for graphics processing.
Elgg features include user groups and access control levels that allow you to create private networks and intranets within your own organization, business or school. It also offers a flexible entity system that facilitates user interaction and a notifications system to keep your users up to date with any changes. All Elgg features can be expanded thanks to a well documented core API. This allows developers to create new Elgg themes that will improve the design of this social networking platform. You can browse the plugins section on the official Elgg website to find a specific plugin, or you can submit your own.
If you're interested in creating your own Elgg theme or creating a plugin, Elgg offers detailed documentation into the software's architecture. On their website you can find tutorials on how to build your first plugin. You can become a part of the Elgg community and join the group dedicated to beginner developers. The project relies on volunteers to succeed and on their community page you can find other ways to give back and contribute.
There are a lot of websites powered by Elgg. Some examples include the Australian Government, the British Government or UNESCO. All these websites use different Elgg themes and the platform's functionality has been expanded to fit their specific needs.
The latest Elgg version is 2.3.5 and was released on December 6, 2017, bringing some new bug fixes that were reported in the previous version. Elgg is available under GPL Version 2, with a portion of the code alternately available under an MIT license. You can download the latest version of the software using the link below to get a full Elgg review of its features and capabilities.
Key Facts
| | |
| --- | --- |
| CMS name | Elgg |
| User rating | |
| CMS Categories | Blog, CMS / Portals |
| Current version (stable) | 2.3.5 |
| Latest release date (stable) | 12/06/2017 |
| First release date | Unknown |
| License | GNU GPLv2 and X11 |
| Supported languages | English |
| CMS Demo available | (see above) |
| Admin Demo available | (see above) |
| Helpful Links | |
Screenshots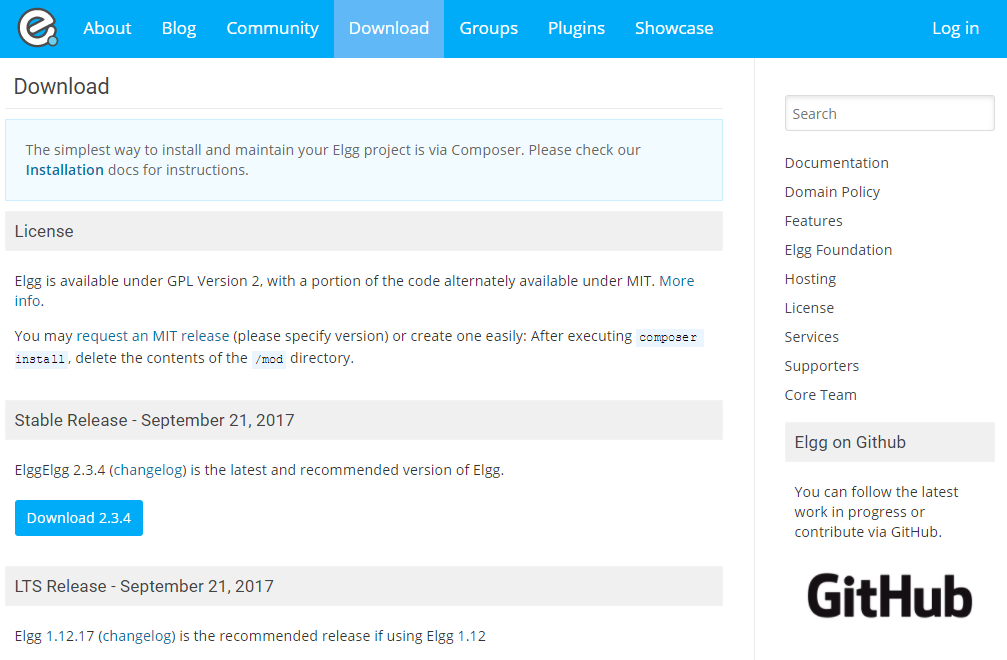 Elgg download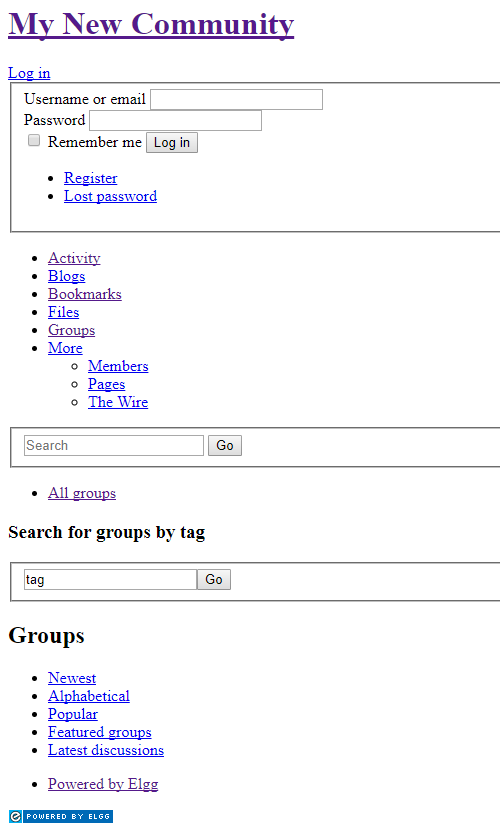 Elgg community demo preview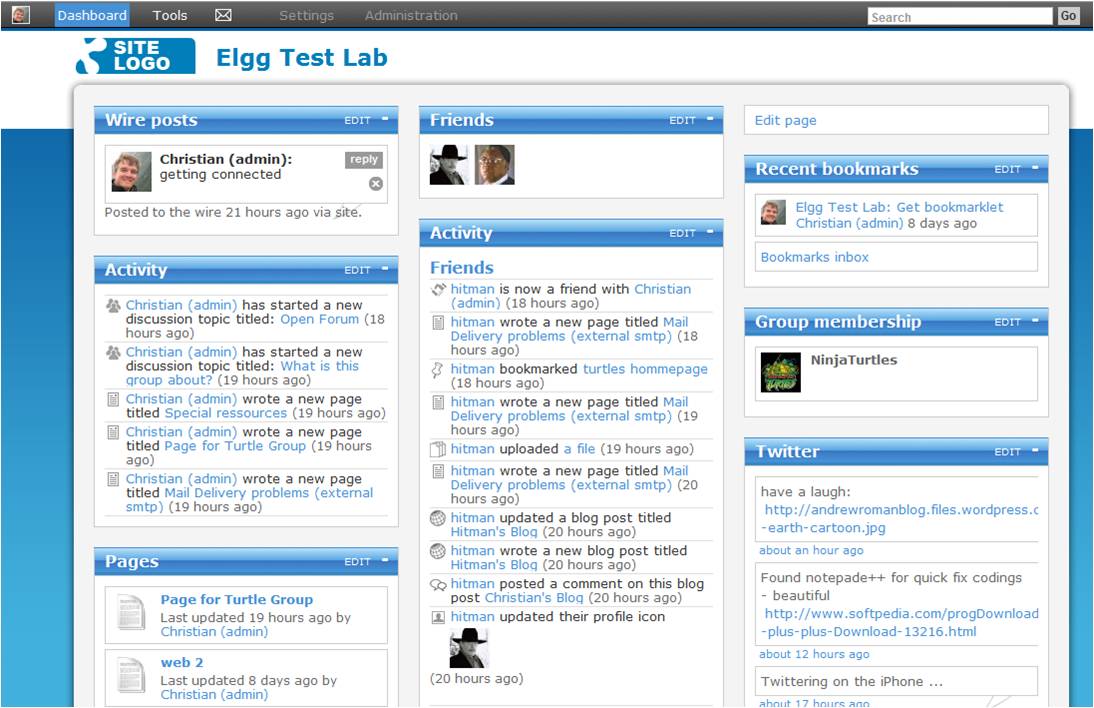 Elgg Dashboard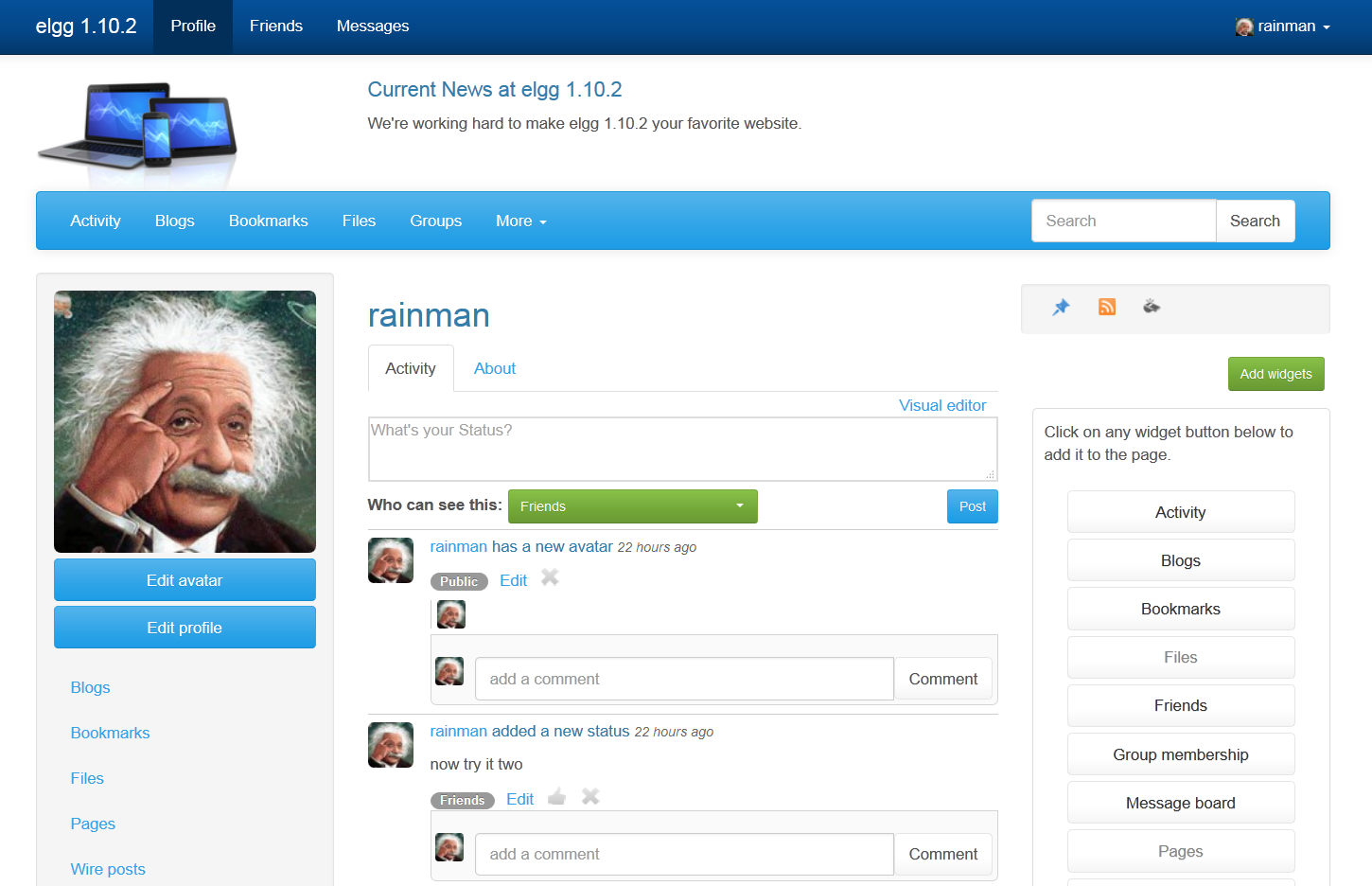 Elgg Theme Example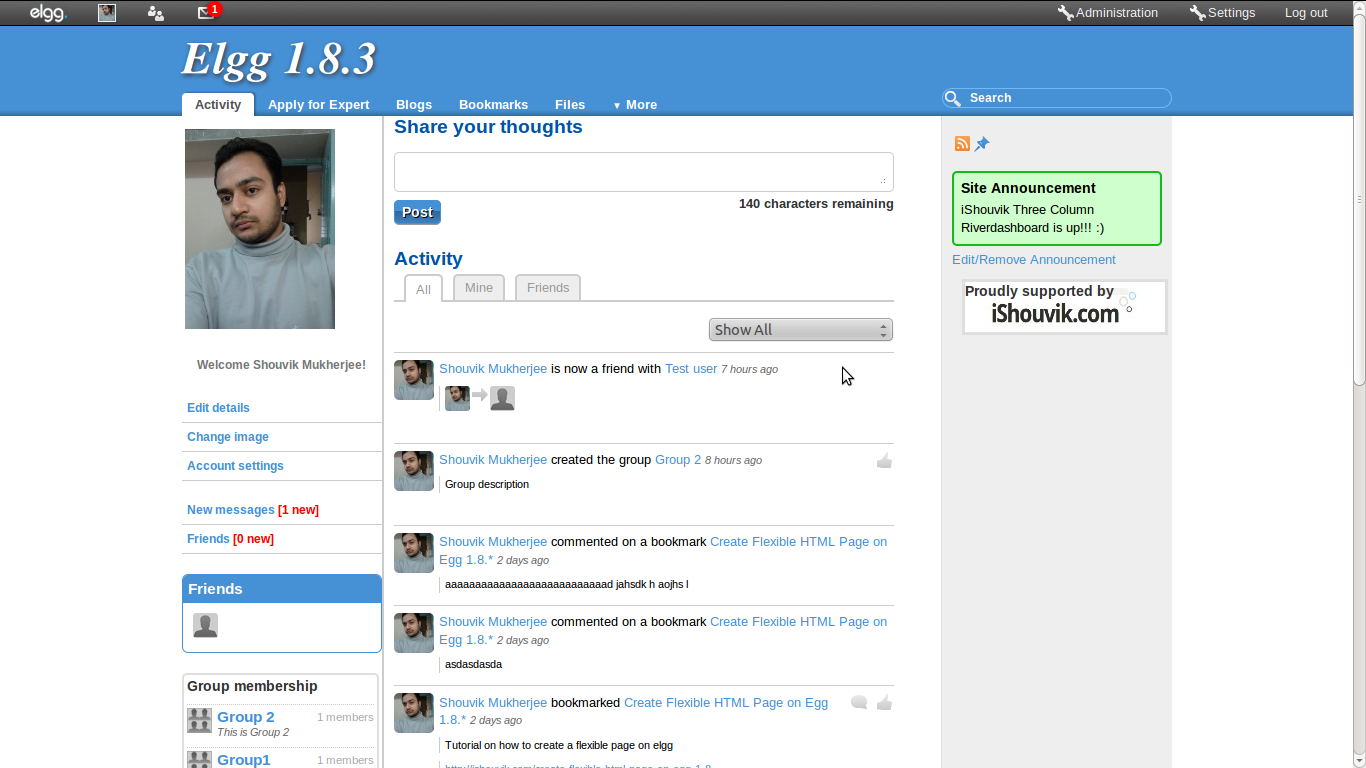 Elgg Dashboard Activity