Free Elxis demo installation

Elxis Logo
Want to quickly see how the open-source software Elxis works? You'll find a free and updated demo installation of Elxis here.
Before using this demo please notice:
Option 1: Shared and self resetting Elxis demo
There is a public demo installation of Elxis which is shared with others and resets itself hourly. You can access it by visiting the following link:
Option 2: Request your own Elxis demo installation
You can request a own demo instance with a lifetime of 24 hours. This is ideal if you don't want to have your settings overwritten by other users of this website. Just use the following form and receive a link to your free custom instance within seconds:
About Elxis
Elxis CMS is a free open source content management system released under the Elxis Public License developed using object oriented programming in PHP and a PDO database layer that offer support for MySQL and PostgreSQL. Development on the project started in December 2005 by Ioannis Sannos and is based on Mambo CMS v4.5.2.3. The first version called 2006.0 Zeus was launched in June 2006 and marked the appearance of the first Elxis website in the world wide web. Since then Elxis CMS has proven to be a flexible, secure and reliable platform, providing all the features you need from a content management system.
If you want to get a complete review of this content management system you can use the link below to download the archive and set up your own Elxis CMS demo. If you face problems downloading Elxis make sure javascript is enabled in your browser. The admin demo will give you a better understanding of its features and how you can customize the appearance of your online demo using themes. Make sure you read the documentation and meet all requirements before going through the installation process. The screenshots below will give you a preview of how an Elxis demo site can be personalized using themes, and how you can add new features by installing plugins.
Elxis CMS can be used to create anything from personal websites and blogs to complex corporate websites and portals without the need of having programming skills. Some examples of Elxis features include easy installation via a web interface, multi-sites support with a single installation, built-in commentary system and a powerful templating system. Elxis has been downloaded and installed on thousands of websites in all over the world and translated in more than 40 languages. The latest version available for download is 4.6 and was released on August 26, 2017.
Key Facts
| | |
| --- | --- |
| CMS name | Elxis |
| User rating | |
| CMS Categories | CMS / Portals |
| Current version (stable) | 5.1 |
| Latest release date (stable) | 10/17/2020 |
| First release date | 01/01/2006 |
| License | ELXIS PUBLIC LICENSE (EPL) |
| Supported languages | English, Arabic, Bulgarian, Croatian, Dutch, English, French, Greek, Japanese, Korean, Portuguese, Russian, Serbian, Spanish, Ukrainian |
| CMS Demo available | (see above) |
| Admin Demo available | (see above) |
| Helpful Links | |
Screenshots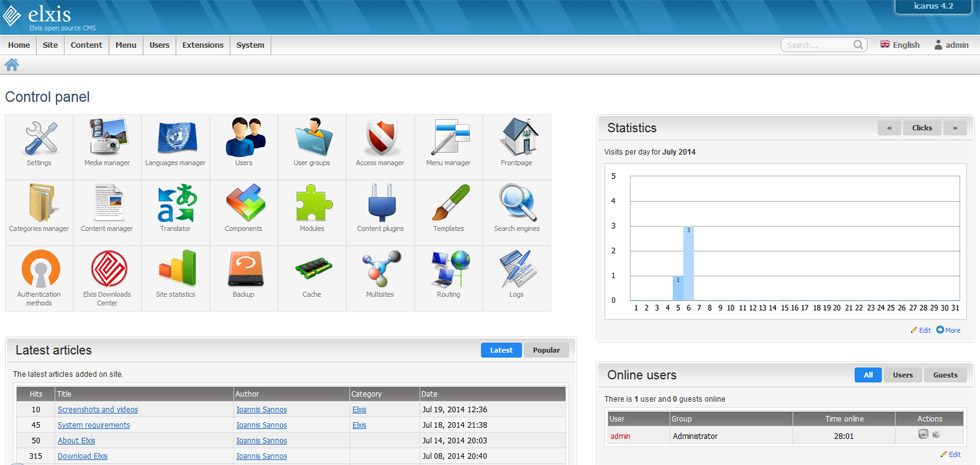 Control panel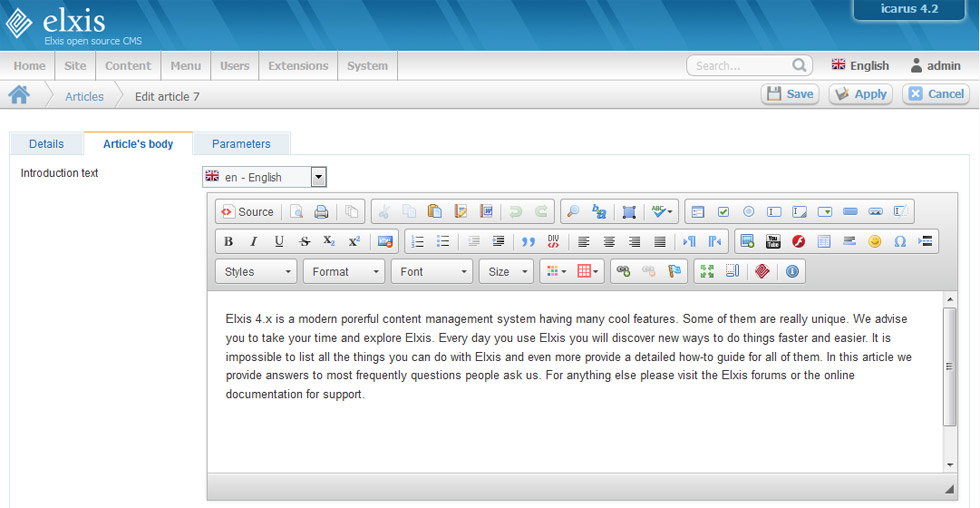 WYSIWYG editor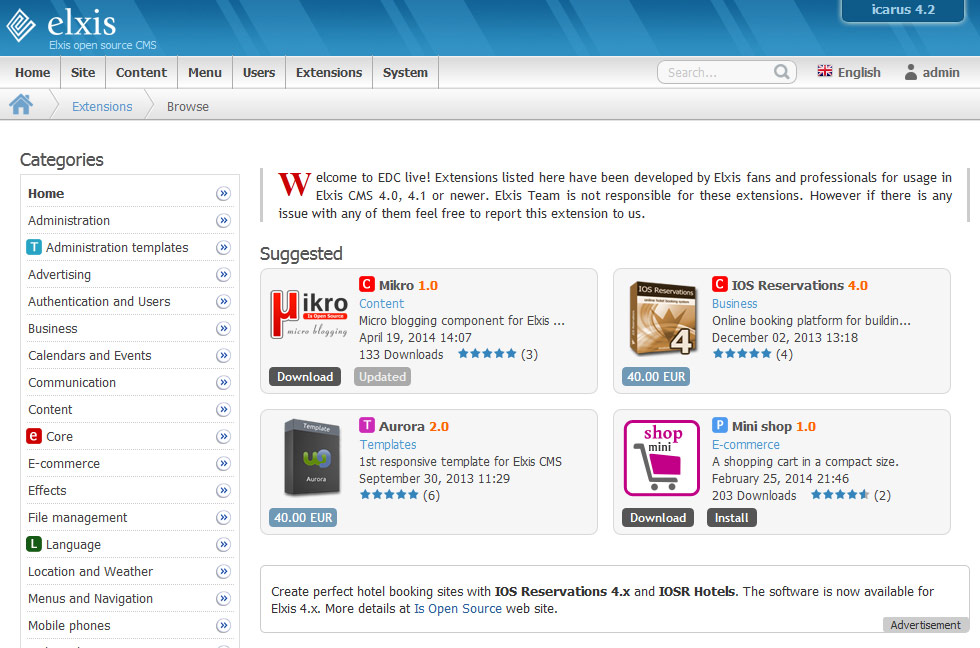 EDC browser