Free eyeOS demo installation
Want to quickly see how the open-source software eyeOS works? You'll find a free and updated demo installation of eyeOS here.
Before using this demo please notice:
Option 1: Shared and self resetting eyeOS demo
There is a public demo installation of eyeOS which is shared with others and resets itself hourly. You can access it by visiting the following link:
Option 2: Request your own eyeOS demo installation
You can request a own demo instance with a lifetime of 24 hours. This is ideal if you don't want to have your settings overwritten by other users of this website. Just use the following form and receive a link to your free custom instance within seconds:
About eyeOS
EyeOS is a private-cloud application platform with a web-based desktop interface developed using PHP, XML and JavaScript. Its first version was released on August 1, 2005 in Barcelona, quickly gaining a lot of support in terms of testing, improving and translating from an active community of developers. All this laid the foundation for a new version release two years later that brought new eyeOS features and the use of new technologies. eyeOS 1.0 released in June 2007 also included the eyeOS Toolkit, a set of libraries meant to facilitate the development of new web applications. In the following months new versions followed that brought a licensing change from GNU GPL Version 2 to Version 3 and new eyeOS features like complete integration with Microsoft Word files. The eyeOS community kept on growing, reaching 10.000 members on April 8, 2008 in the eyeOS forums only.
If you're interested in how an eyeOS demo looks like you can check out the screenshot below which will give you a preview of how the eyeOS interface looks like. If you want to get a complete eyeOS review you can try to set up your own eyeOS demo site. The last version released under an open source license was 2.5 and came out in May 2011. April 3, 2012 marks the released of the last stable version for eyeOS 2.5. To set up an online demo just download the archive from Sourceforge and go through the installation process. The installation requirements for eyeOS 2.5 include an Apache http Server 2.x, a MySQL-server and MySQL-client 5.x and PHP 5.3, or higher.
If you login to an eyeOS demo you will see that it focuses on facilitating collaboration and communication among users by delivering a whole desktop from the cloud. Some examples of eyeOS features include file management, personal management information tools, collaborative tools as well as integration with client applications. Its structure and API allowed developers to create new applications for it, including customizing and creating new eyeOS themes.
On September 15, 2011 eyeOS released a Professional Edition as a commercial solution that targeted enterprise users. This new edition kept some of the eyeOS features from the open source version like the web desktop interface. However it stood out from previous releases through a number of features specifically designed for enterprise clients like file sharing, synchronization, system wide administration controls and a local file execution too. A new set of web apps was also introduced.
During its circle of life, eyeOS won numerous prizes. Some examples include the BMW Innovation Award in 2009 and MIT's TR35 award as Innovator of the year in Spain in 2011. The web application is multilingual and was released under the free software license before version 2.5. After version 2.5 it was released under a proprietary license. Currently eyeOS is no longer being developed and is no longer active.
Key Facts
| | |
| --- | --- |
| CMS name | eyeOS |
| User rating | |
| CMS Categories | CMS / Portals |
| Current version (stable) | 2.5 |
| Latest release date (stable) | 05/17/2011 |
| First release date | 08/01/2005 |
| License | Unknown |
| Supported languages | Multilingual |
| CMS Demo available | (see above) |
| Admin Demo available | (see above) |
| Helpful Links | |
Screenshots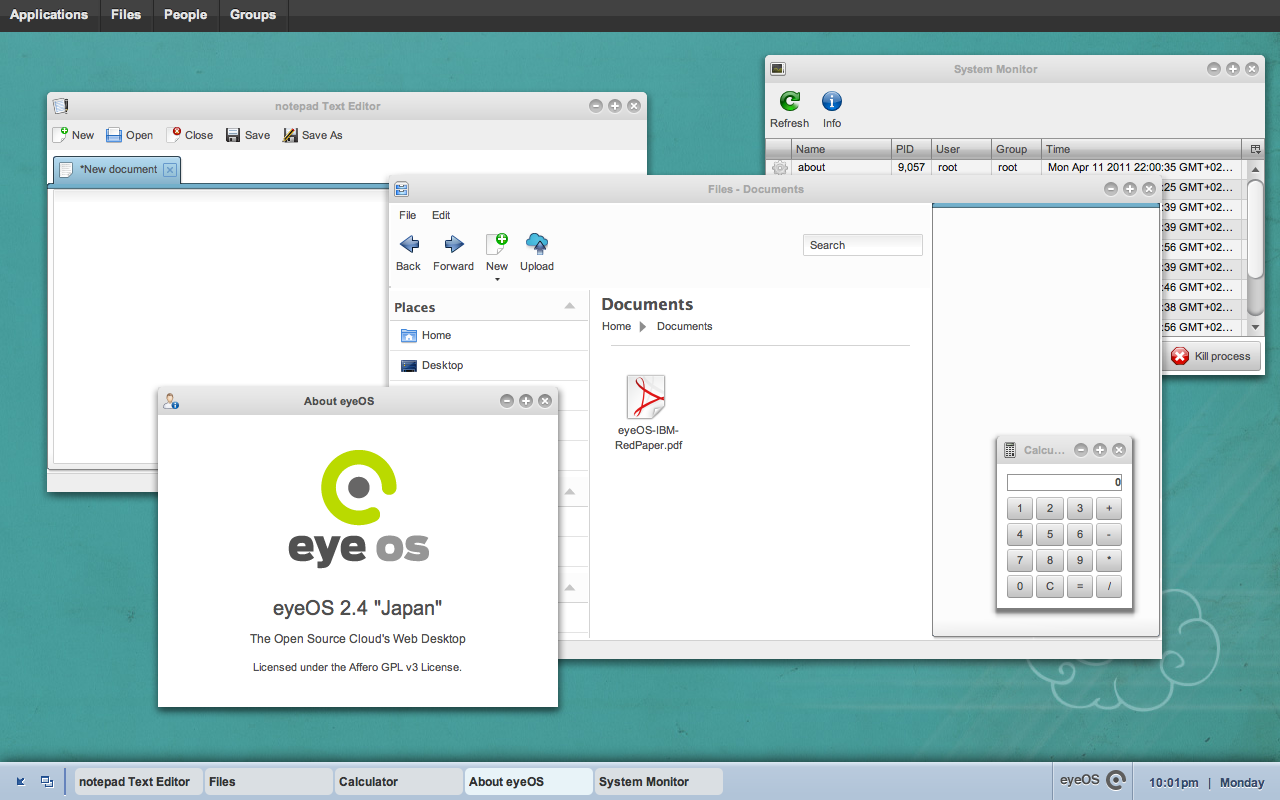 EyeOS 2.4 Interface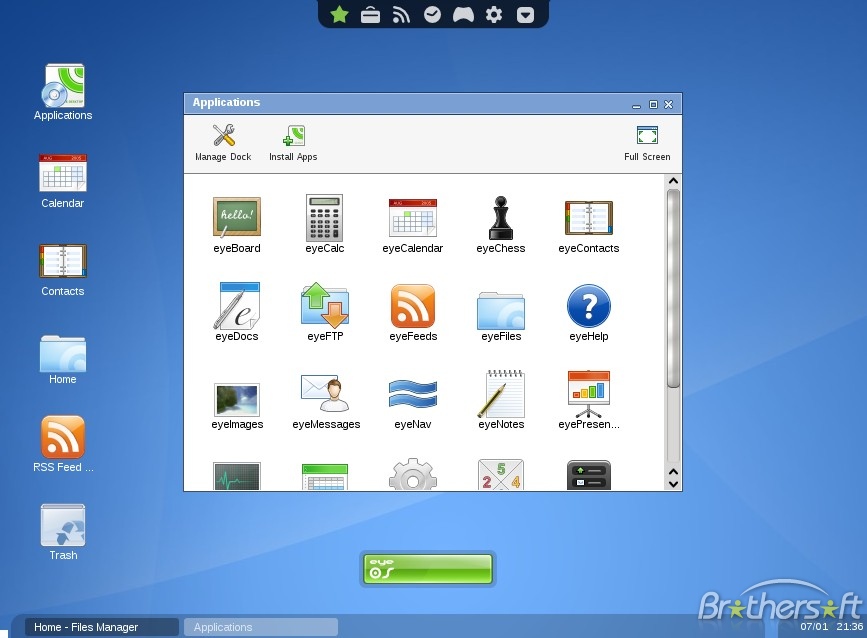 EyeOS 2.5 Interface