Free MantisBT demo installation


MantisBT Logo
Want to quickly see how the open-source software MantisBT works? You'll find a free and updated demo installation of MantisBT here.
Before using this demo please notice:
Option 1: Shared and self resetting MantisBT demo
There is a public demo installation of MantisBT which is shared with others and resets itself hourly. You can access it by visiting the following link:
Option 2: Request your own MantisBT demo installation
You can request a own demo instance with a lifetime of 24 hours. This is ideal if you don't want to have your settings overwritten by other users of this website. Just use the following form and receive a link to your free custom instance within seconds:
About MantisBT
MantisBT is a free open source web-based bug tracking system developed using the PHP programming language. Initial development on the software was started in 2000 by Kenzaburo Ito, but two years later he was joined by others developers who helped extend MantisBT features and capabilities, releasing new versions. While Mantis Bug Tracker was initially intended to track software defects, it can also be configured to be a more general bug and issue tracking system, making it resemble the usability of a project management tool.
One of the most important MantisBT features of version 1.2.0, which was released in 2012, was the introduction of an event driven plugin system. This opened the way for the development of new extensions and plugins that ultimately help enhance current MantisBT features. Given that it's a bug tracking system and users need to stay connected to the status of each issue, MantisBT offers email notifications based on changes being made to issues in the system. It also allows users to configure what types of email they want to receive and set different filters. An RSS feed is available that shows issues that have been resolved, and it comes integrated with Twitter via a plugin. This allows for a notification to be tweeted every time a issue is resolved.
Other examples of MantisBT features include the ability to set user access control levels depending on project and the ability to fully customize your issue fields, notifications and workflow. If you want to get a more comprehensive MantisBT review you can use the links above to login to our MantisBT demo. The admin demo will show you how you can customize your workflow. In the online demo you can also customize the way your MantisBT looks like by installing a Theme Manager plugin. This allows you to create your own MantisBT theme and change the bug colors inside your css file.
Given that the software is free of change you can easily go to their official website and download the newest version. You can set up your own MantisBT demo site after you go through the installation process. In terms of requirements, MantisBT has modest hardware requirements and runs on Windows, MacOS, OS/2, Linux, Solaris, the BSDs, and just about anything that supports the required server software. It requires a web server that supports PHP, like Apache or Microsoft IIS, but it is expected to work with any recent web server software. You will also need a database to store all of its data, like MySQL (or one of its forks, e.g. MariaDB) or PostgreSQL. On the client side it will work on any modern browser available on the market. The newest version of MantisBT released is 2.24.2 and was released on September 25, 2020 under the GNU General Public License version 2.
Key Facts
Screenshots

MantisBT demo login
MantisBT download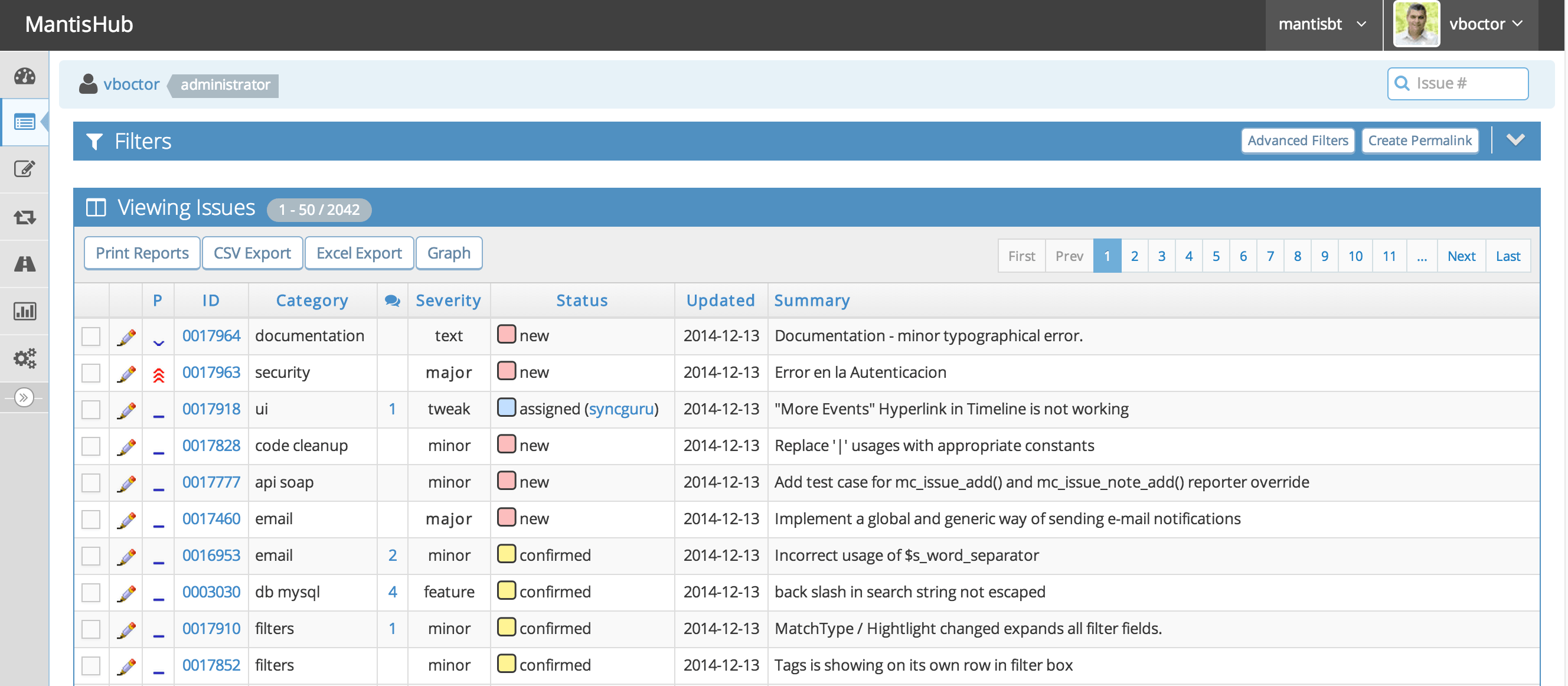 MantisBT Dashboard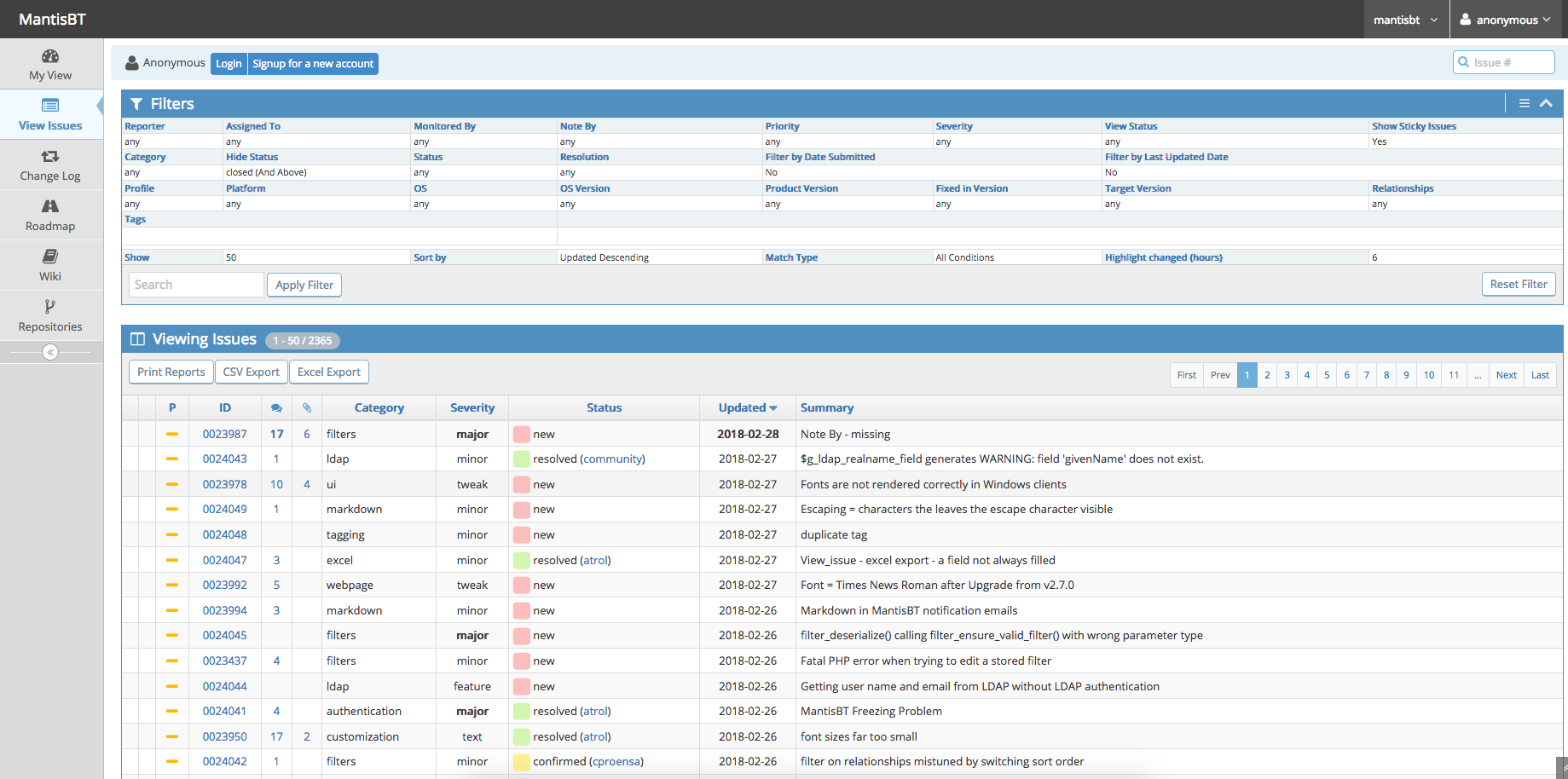 MantisBT Issues Tracker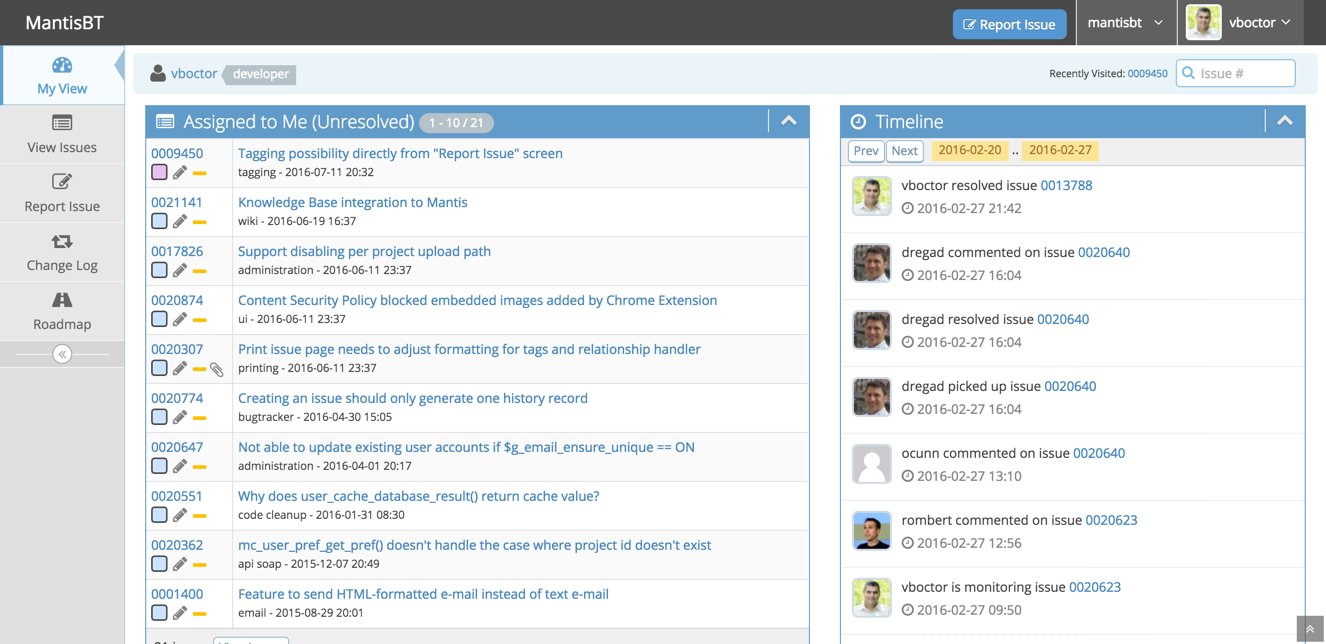 MantisBT Issue Timeline