Free MyBB demo installation


MyBB Logo
Want to quickly see how the open-source software MyBB works? You'll find a free and updated demo installation of MyBB here.
Before using this demo please notice:
Option 1: Shared and self resetting MyBB demo
There is a public demo installation of MyBB which is shared with others and resets itself hourly. You can access it by visiting the following link:
Option 2: Request your own MyBB demo installation
You can request a own demo instance with a lifetime of 24 hours. This is ideal if you don't want to have your settings overwritten by other users of this website. Just use the following form and receive a link to your free custom instance within seconds:
About MyBB
MyBB is a free open source forum software developed in PHP, that offers support for the following databases: MySQL, PostgreSQL and SQLite and has a database failover support. The project was initially named MyBulletinBoard and later MyBBoard. It started as a fork of XMB developed in 2002 by Chris Boulton and on 9 December 2005 version 1.0 was released, after being published for about two years.
MyBB features include everything you would expect from a forum software, with the ability to extend any functionality and improve its design through MyBB themes. If you want to get a complete MyBB review you can use the links above and login to our online demo. The screenshots below will give you a preview of how an admin demo looks like. Try our MyBB demo site and see how you can build and manage your own community in just a few minutes.
The MyBB forum software was created to be easy to use by everyone, administrators and end users. You can manage everything from creating a new forum to users, private messaging and templates. The software offers full control over the discussion system and design through MyBB themes, or the ability to customize the appearance of your forum using CSS. You can also use the calendar and events system or send emails and newsletters to users who met a specific criteria.
Another MyBB feature is the ability to create user reputation based on comments and reviews from other users in the forum. This way you can implement promotions and reward users based on their reputation score, posts count or registration date. While actively working on improving the MyBB features, its community of developers has also translated the software into multiple languages for non-english speaking users. If you want to contribute to the project and translate MyBB into your own language you can join the community and get involved in any way you'd want. You can find more information about that on the MyBB community page.
MyBB was named the best free forum software for four years and is used by many forums on the web. Some examples include HackForums, CSNbbs, and several EA Sports boards. This shows that no matter the size of the forum, MyBB can handle it. On the MyBB website you can browse through a number of plugins and themes that will improve the functionality and design of your MyBB forum.
The latest stable MyBB version is 1.8.24 and was released August 08, 2020. If you want to download and install it you can follow the link below. However, there are a few things you should know before you proceed with the installation. In order for it to function properly you will need to meet a few basic requirements like having an Apache, nginx, lighttpd or IIS webserver and PHP 5.2 with the required extensions installed. In terms of database you can choose from MySQL 5.0, PostgreSQL 8.1 or SQLite 3. Even though are not required, PHP 5.5 and MySQL 5.5 are highly recommended. MyBB is licensed under the LGPL.
Key Facts
Screenshots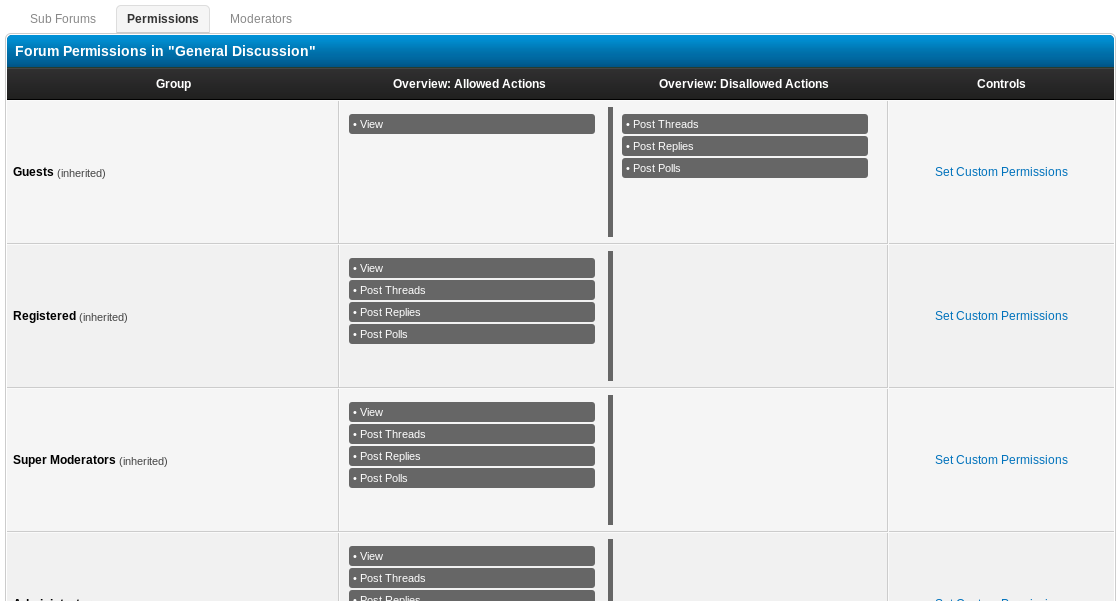 MyBB preview 1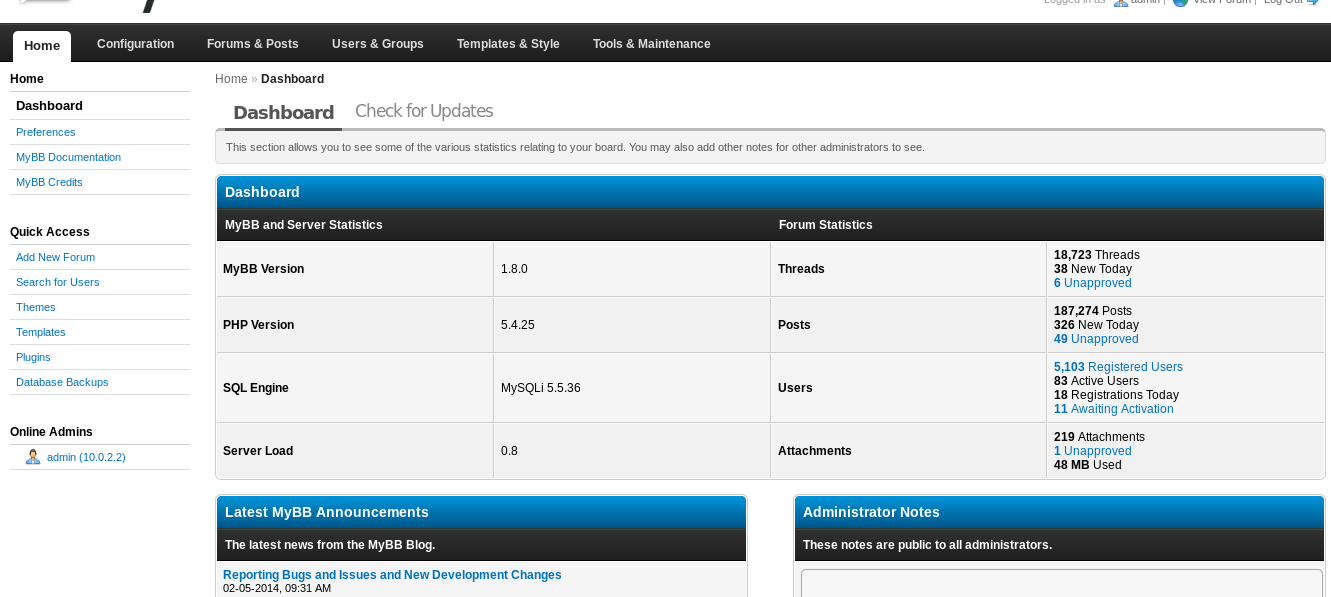 MyBB preview 2