Free MyClientBase demo installation
Want to quickly see how the open-source software MyClientBase works? You'll find a free and updated demo installation of MyClientBase here.
Before using this demo please notice:
We are currently updating the MyClientBase demo. Please check back shortly. There will be a new version up soon.
About MyClientBase
MyClientBase is a free open source client and invoice management system aimed at freelancers. It was built in PHP and is based on the Codeigniter framework. It has a simple to use and intuitive user interface that offers key features. Some examples include invoice management, invoice reports and effective invoice data management. The invoice manager has customizable options like configurable taxes and editable invoice templates. You can also collect payments online and track your inventory. It offers multi-language support and client access through Client Center.
If you want to review this invoice management system you can use the link below to download the archive from Github and set up your own MyClientBase demo. The screenshots below will give you a preview of how the admin demo looks like and how you can put its features to good use. The software is community driven, with many features suggested by the people using the software and involved in the project. To protect confidential information you can install MyClientBase on your own server and create your demo site. The project is no longer being developed and maintained so make sure there aren't any security issues when creating your MyClientBase demo. The last version available for download is 0.12 and was released on January 30, 2012.
Key Facts
Screenshots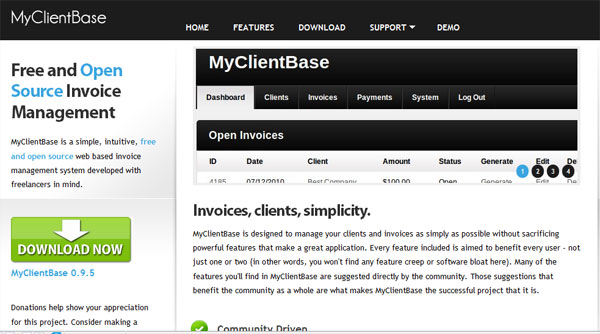 MyClientBase Website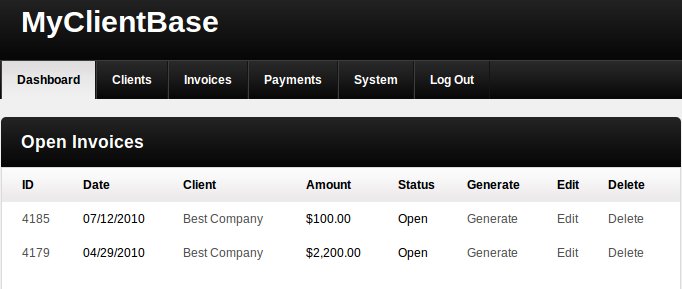 MyClientBase Admin Demo

MyClientBase Admin Features