Free phpMyChat demo installation


phpMyChat Logo
Want to quickly see how the open-source software phpMyChat works? You'll find a free and updated demo installation of phpMyChat here.
Before using this demo please notice:
We are currently updating the phpMyChat demo. Please check back shortly. There will be a new version up soon.
About phpMyChat
PhpMyChat is a simple chat software developed using PHP and JavaScript that uses a database to store information. It was released at the beginning of 2001 and since then has been developed and maintained to include new features like cPanel support, which turned it into one of the most popular chat services. PhpMyChat has a web-based user interface that offers an easy to use installation and if you're interested in getting a preview you can check out the screenshot below for the PhpMyChat login page.
PhpMyChat currently supports MySQLi, MariaDB, PostgreSQL and ODBC in terms of databases and is fully compatible with PHP 7 (7.1.1). It's an easy to use multi-room chat that supports RC-like commands and chat moderators, allowing you to create your own public or private chat rooms. PhpMyChat has a lot of positive reviews and even though the last version was released in 2009, its active community of developers is still maintaining the code and working on fixing any bugs.
In terms of features PhpMyChat offers all the functionality you would expect from a chat, like smiles, image uploading, offline messaging and notification sounds, but it also allows for video posting and a live streaming radio/TV plugin that integrates a HTML5 media player. Its features make it the perfect tool for customer service activities, but its ease of use has also increased its popularity amongst other audiences like developer teams or desktop users in need of a standalone chat system. It's currently available in 24 languages and if you're interested in reviewing this chat you can download the latest version, 1.96, and login to your account or you can check the online demo. PhpMyChat is released under the GPL/GNU license.
Key Facts
Screenshots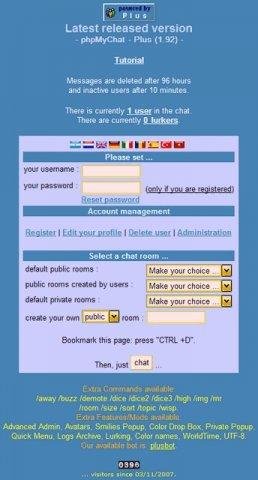 phpMyChat login page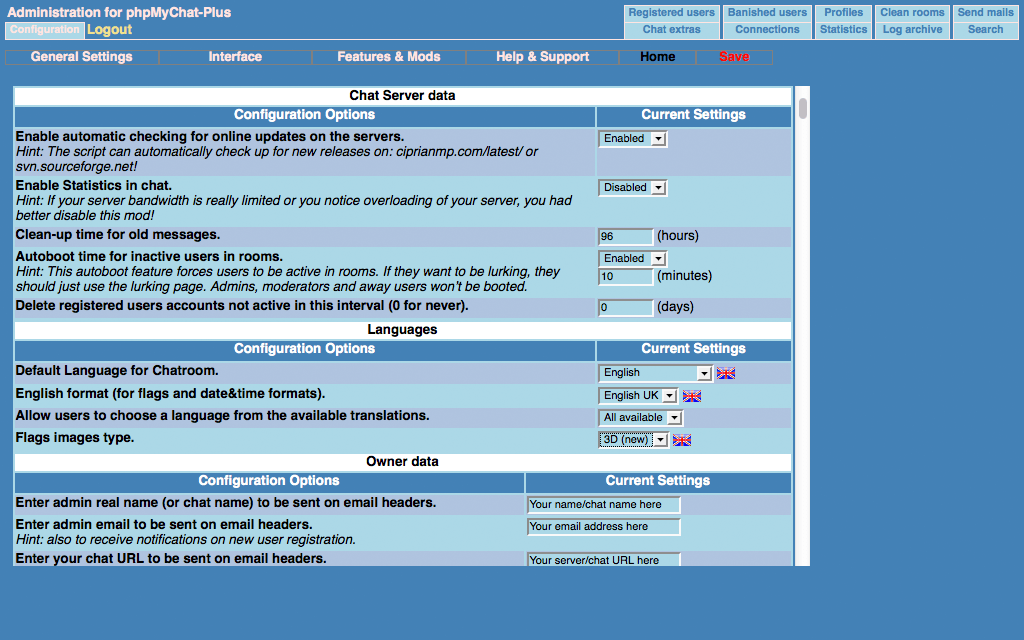 PhpMyChat Features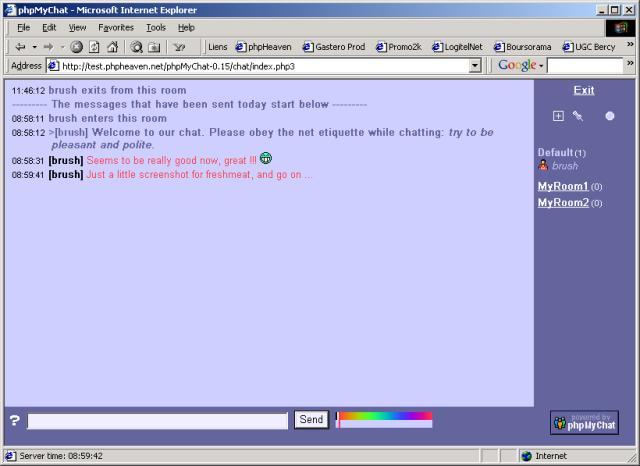 PhpMyChat Interface