Free PhpWiki demo installation

PhpWiki Logo
Want to quickly see how the open-source software PhpWiki works? You'll find a free and updated demo installation of PhpWiki here.
Before using this demo please notice:
Option 1: Shared and self resetting PhpWiki demo
There is a public demo installation of PhpWiki which is shared with others and resets itself hourly. You can access it by visiting the following link:
Option 2: Request your own PhpWiki demo installation
You can request a own demo instance with a lifetime of 24 hours. This is ideal if you don't want to have your settings overwritten by other users of this website. Just use the following form and receive a link to your free custom instance within seconds:
About PhpWiki
PhpWiki was first developed and released by Steve Wainstead in December 1999 as the first wiki written in PHP. It started off as a clone of WikiWikiWeb and was mainly used for the editing and formatting of paper books for publication. The PHP version it used at that time was PHP 3.x and it ran using only a simple database engine. The first significant change to PhpWiki came just one year later when Arno Hollosi added MySQL as a database library which led the way to other meaningful contributions, expanding the list of features to include a templating system and much more.
Although the last version of PhpWiki was released in December 2015, the project is still being maintained by its contributors. Over the course of fifteen years, PhpWiki has had some major contributors which made sure the project became stable and brought to the table new features, like support for the MediaWiki markup syntax starting with version 1.4.0. The current version of PhpWiki is 1.5.5 and starting with version 1.5.0, under the command of Marc-Etienne Vargenau, PHP 4 was deprecated. At the moment, PhpWiki is available in nine languages, including english, german, french, spanish and italian.
PhpWiki allows you to edit and create pages through an HTML form. If you're interested in getting a preview of how it works you can download the latest version and login to an admin demo. In terms of features, PhpWiki offers full authentication, multiple storage backends and the ability to grant different levels of permissions to users. You can also choose from a number of themes, create dynamic hyperlinks within your pages and is scriptable by plugins. PhpWiki was released under the GNU GPL license, granting users the rights of the Free Software Definition.
Key Facts
| | |
| --- | --- |
| CMS name | PhpWiki |
| User rating | |
| CMS Categories | CMS / Portals |
| Current version (stable) | 1.5.5 |
| Latest release date (stable) | 12/11/2015 |
| First release date | 12/01/1999 |
| License | GNU GPL |
| Supported languages | English |
| CMS Demo available | (see above) |
| Admin Demo available | (see above) |
| Helpful Links | |
Screenshots

PhpWiki demo frontend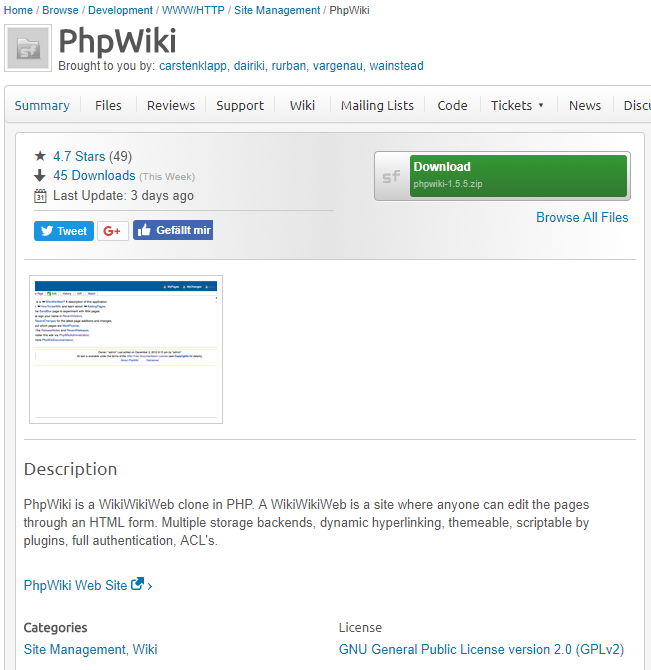 PhpWiki download