Free Piwik demo installation

Piwik Logo
Want to quickly see how the open-source software Piwik works? You'll find a free and updated demo installation of Piwik here.
Before using this demo please notice:
Option 1: Shared and self resetting Piwik demo
There is a public demo installation of Piwik which is shared with others and resets itself hourly. You can access it by visiting the following link:
Option 2: Request your own Piwik demo installation
You can request a own demo instance with a lifetime of 24 hours. This is ideal if you don't want to have your settings overwritten by other users of this website. Just use the following form and receive a link to your free custom instance within seconds:
About Piwik
Piwik is a a free and open source web analytics application built using PHP and MySQL. It was first released in late 2007 and was created by Innocraft with the support of a team of international developers. As of January 9, 2018, Piwik changed its name to Matomo in order to refresh their brand and to better reflect how far Piwik features have come and how much the product has evolved. According to Matthieu Aubry, the creator of Piwik, nothing else has changed, except the name, with the goal of reaffirming their vision. The screenshots below will give you a preview of how the Piwik demo looks like compared to the new Matomo interface.
Piwik features have helped the product gain a lot of popularity over the years, turning it into the leading open alternative to Google Analytics. As of July 2017, Piwik was being used by 1.3% of all websites, which means more than one million websites. The creators of this web analytics application and the active community of developers involved in the project are constantly working on improving the Piwik features and releasing new versions on a regular basis. The latest stable release is 3.3.0, which was released on 12 January 2018 under the GNU GPL v3 license.
The most important Piwik feature is the fact that if offers full control over your data. It offers user privacy protection and the ability to collect data from different websites and apps in order to extract insights and customize them. It targets all types of users, from individuals to small or big companies. A mobile app is also available for quick, on the stats about your website.
Piwik offers full API support and a clean user interface with modern graphics. However, you can choose one of the Piwik themes available in the Marketplace if you want to change the look and feel of the application. Piwik is also integrated with Facebook Ads, Yahoo! Search Marketing and Google Adwords, offering tracking and reporting. You can also take advantage of the A/b Testing, funnels or heatmaps available in order to customize your marketing campaign and take advantage of all the Piwik features.
If you want to get a full Piwik review you can use the links above to login to our Piwik demo. The admin demo will walk you through the Piwik capabilities and options. In order to install one of the new Piwik themes you have to login as a Super User, and go to the Plugins menu under Administration. To change the appearance of the Piwik user interface click on Manage themes and install a new theme. However, if you want to try and set up your own Piwik online demo you can choose one of the options available: Self hosted installation on your own server or a cloud hosted installation where you get a thirty days free trial. If you want to install it on your own server download the archive and make sure you have the required configuration. In terms of server requirements you will need a web server such as Apache, Nginx, IIS, etc., PHP version 5.5.9 or greater, MySQL version 5.5 or greater, or MariaDB.
Key Facts
| | |
| --- | --- |
| CMS name | Piwik |
| User rating | |
| CMS Categories | CMS / Portals |
| Current version (stable) | 3.3.0 |
| Latest release date (stable) | 01/12/2018 |
| First release date | 11/27/2008 |
| License | GNU GPL v3 |
| Supported languages | English |
| CMS Demo available | (see above) |
| Admin Demo available | (see above) |
| Helpful Links | |
Screenshots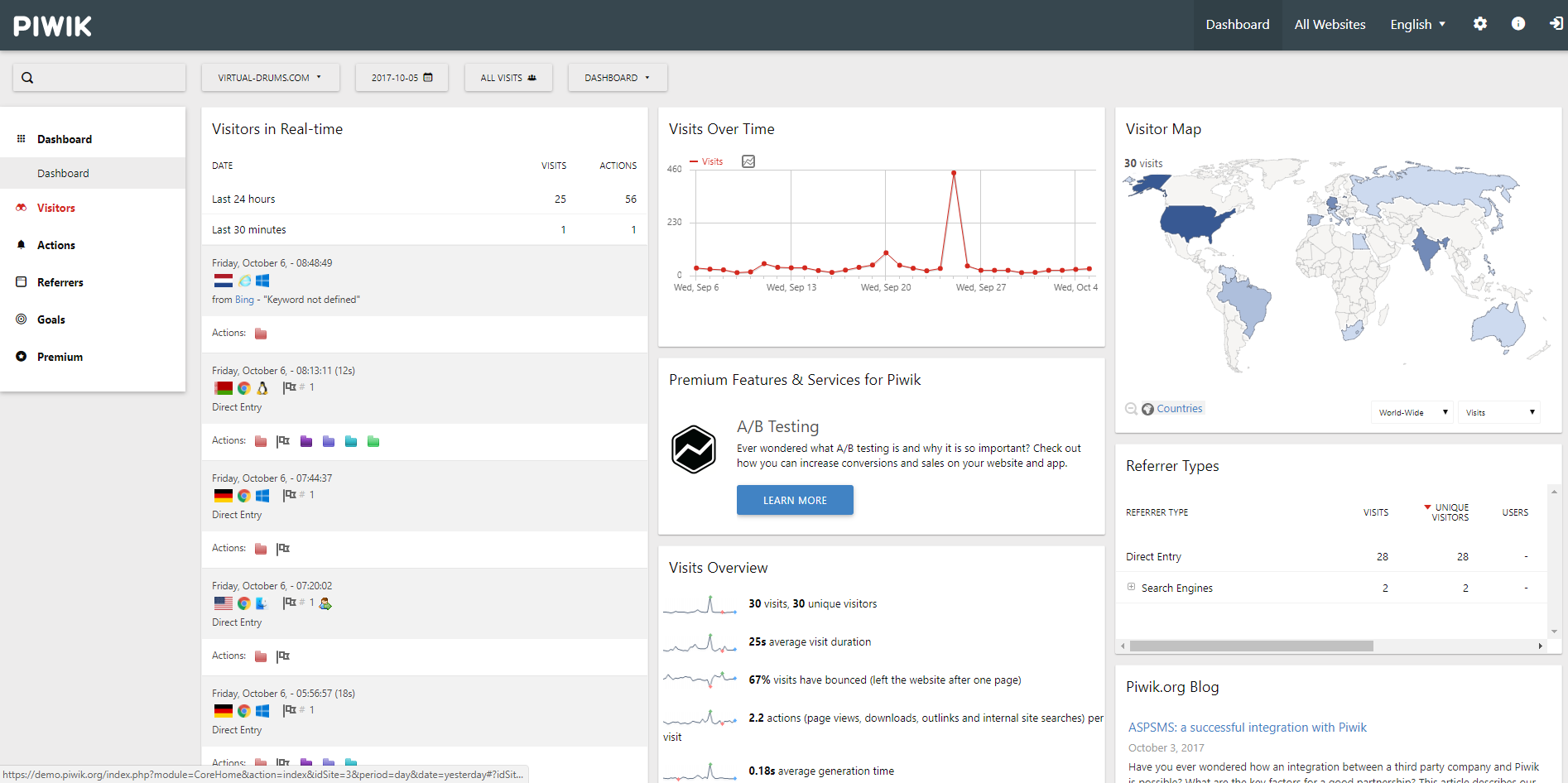 Piwik demo frontend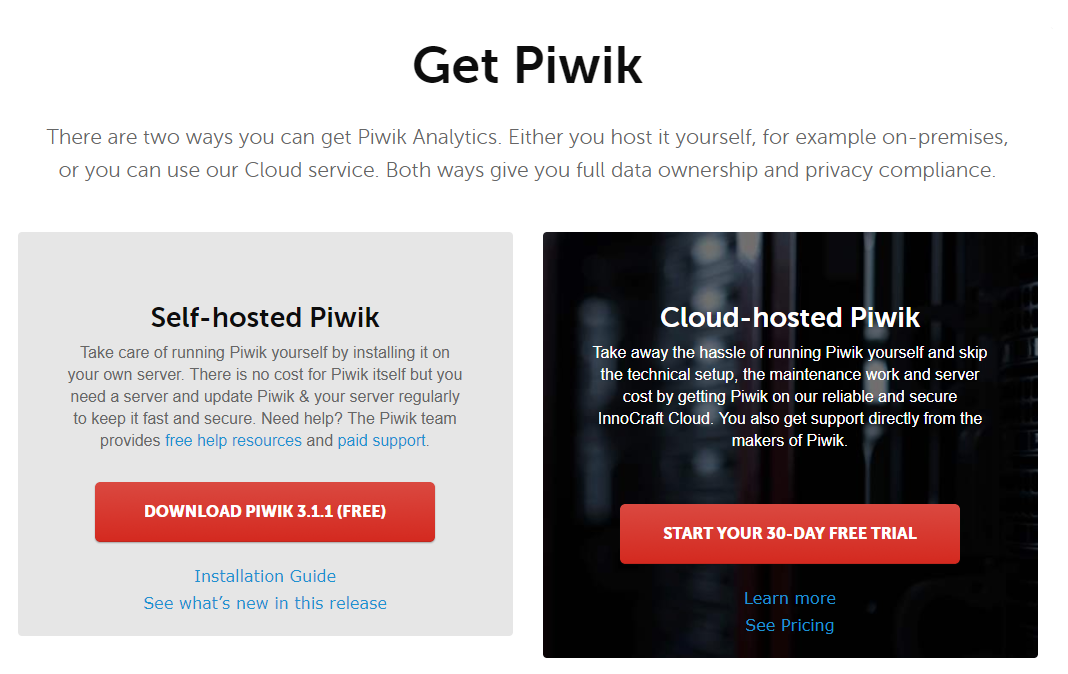 Piwik download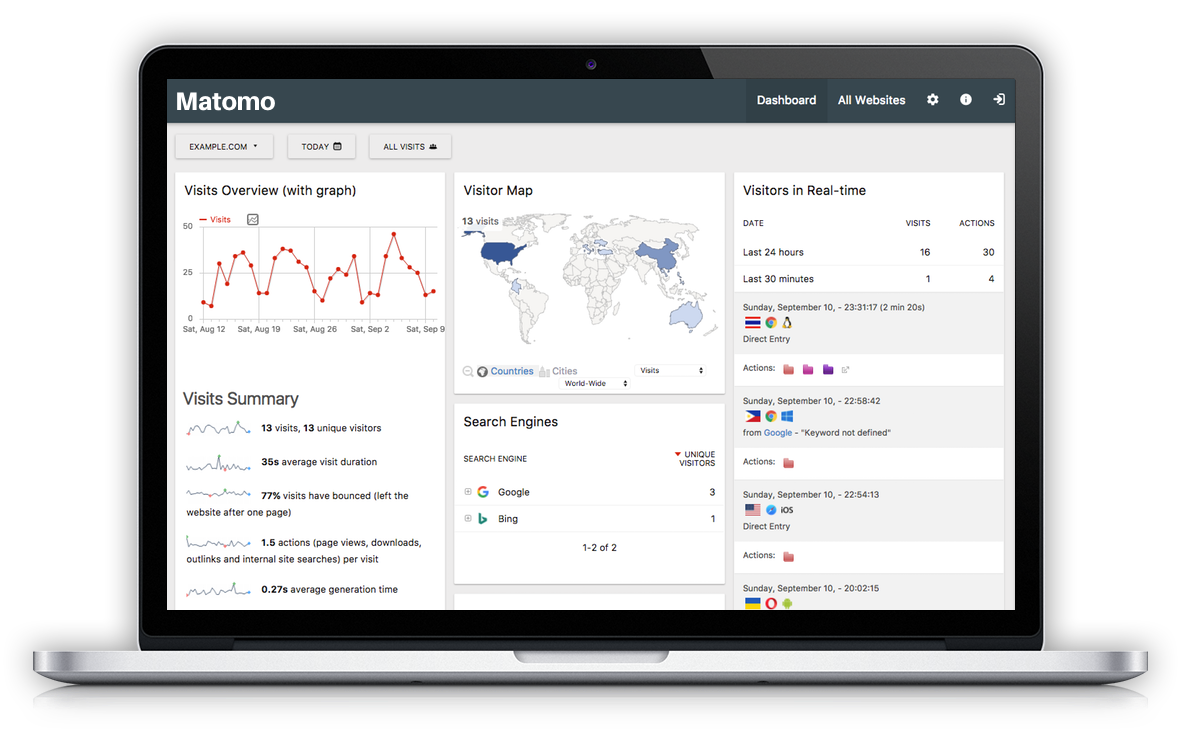 New Matomo user interface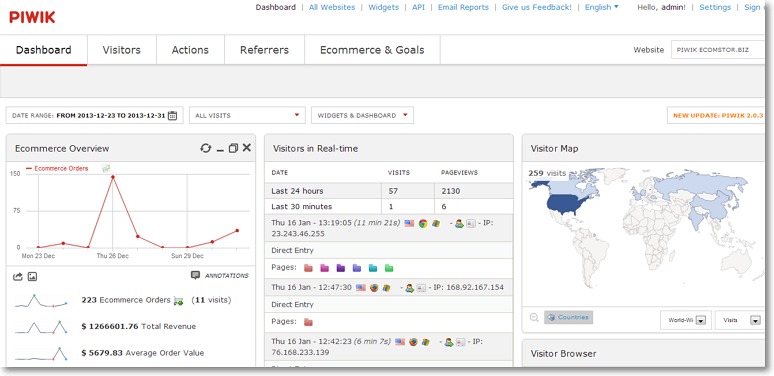 Piwik ecommerce dashboard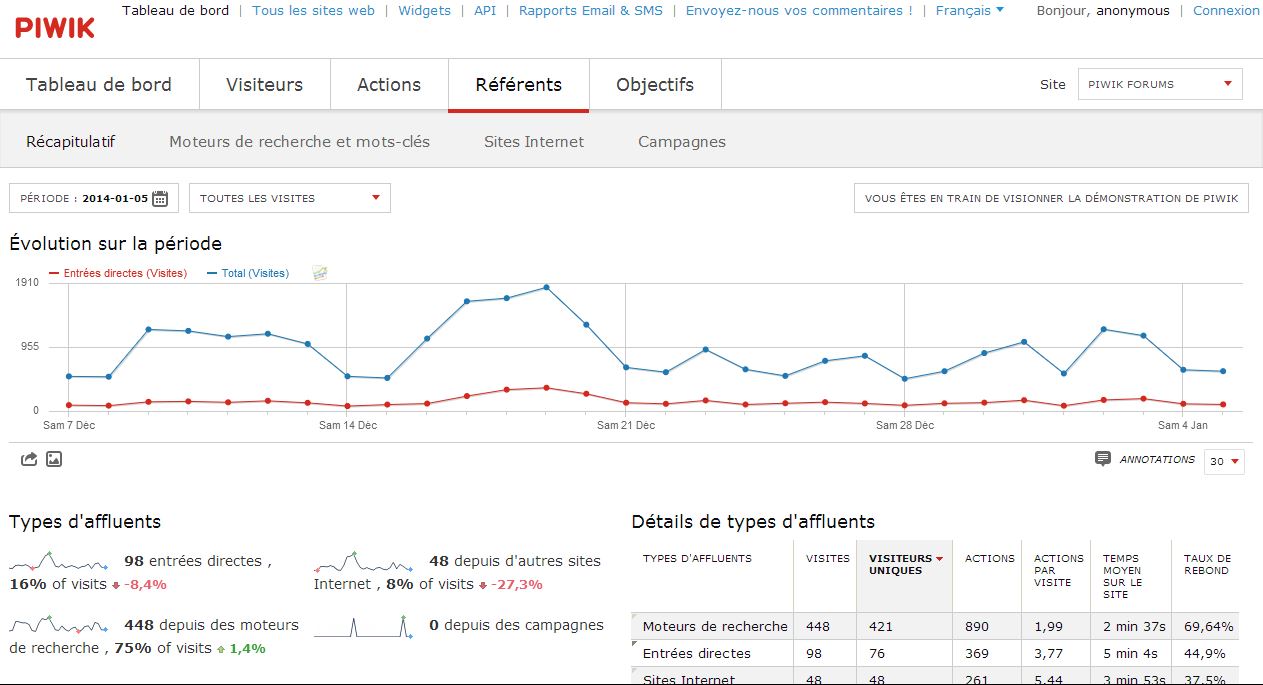 Piwik visitor tracking dashboard