Free SMF demo installation

SMF Logo
Want to quickly see how the open-source software SMF works? You'll find a free and updated demo installation of SMF here.
Before using this demo please notice:
Option 1: Shared and self resetting SMF demo
There is a public demo installation of SMF which is shared with others and resets itself hourly. You can access it by visiting the following link:
Option 2: Request your own SMF demo installation
You can request a own demo instance with a lifetime of 24 hours. This is ideal if you don't want to have your settings overwritten by other users of this website. Just use the following form and receive a link to your free custom instance within seconds:
About SMF
Simple Machines Forum, also known as SMF is an open source, Internet forum, message board developed using PHP as a programming language that uses a MySQL database management system. On June 6, 2001 sixteen year old Zef Hemel along with collaborators Jeff Lewis, Corey Chapman, T. Oswalds, and Matt Mecham released the first open source bulletin board written in Perl called YaBB 1.0. Based on that project, but featuring a different approach, SMF 1.0 Beta 1a, was released on September 30, 2003.
SMF features include a powerful Package Manager that allows you to customize the software and change its appearance choosing one of the different themes available. You can get a review of the internet forum if you login to our SMF demo using the links above. The online demo allows you to set up your own online community within minutes. The SMF SSI function, which stands for Server Side Includes, makes it easier for your forum and demo site to interact with each other. The screenshots below will give you a preview on how an admin demo and demo forum look like.
You can also set up your own SMF demo and go through the admin demo by clicking on the link below to download the latest version available. However, you are advised to read the license before, as it has important agreements in it. On their official website you can find many examples of themes that will help you customize your online demo. SMF is designed to have minimal impact on your server resources while providing you with all the features you need for a bulletin board. The latest version available for download is 2.0.15 and it became available on June 1, 2017. It was released under the SMF 2: 3-clause BSD License.
Key Facts
| | |
| --- | --- |
| CMS name | SMF |
| User rating | |
| CMS Categories | CMS / Portals, Forum |
| Current version (stable) | 2.0.15 |
| Latest release date (stable) | 06/01/2017 |
| First release date | 09/30/2003 |
| License | The 3-Clause BSD License |
| Supported languages | English, Arabic, Bulgarian, Catalan, Chinese, Croatian, Czech, Danish, Dutch, Finnish, French, German, Greek, Hebrew, Hindi, Indonesian, Italian, Japanese, Norwegian, Polish, Portuguese, Romanian, Russian, Serbian, Slovak, Slovenian, Spanish, Swedish, Ukrainian, Vietnamese |
| CMS Demo available | (see above) |
| Admin Demo available | (see above) |
| Helpful Links | |
Screenshots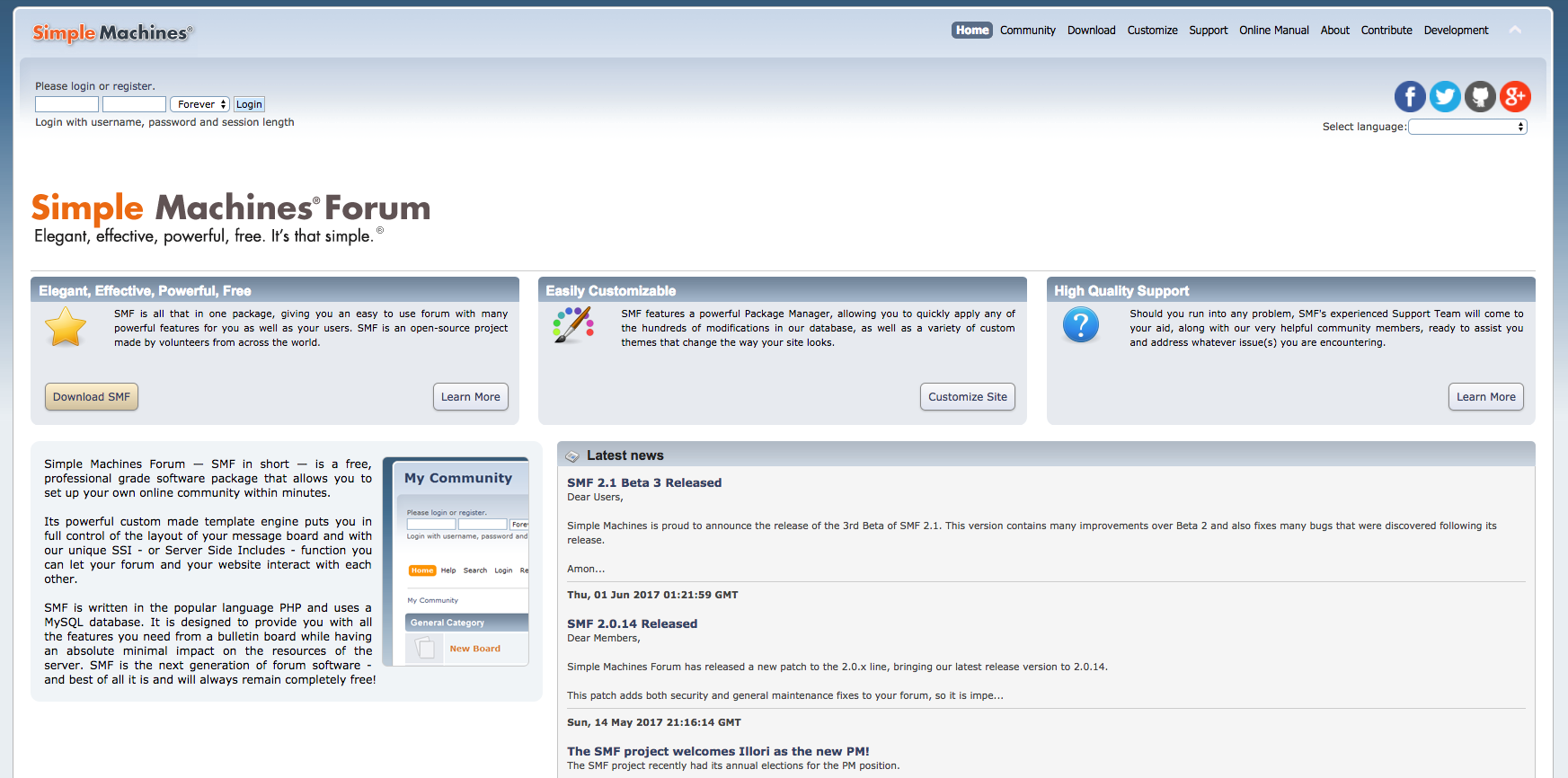 Simple Machines Forum Website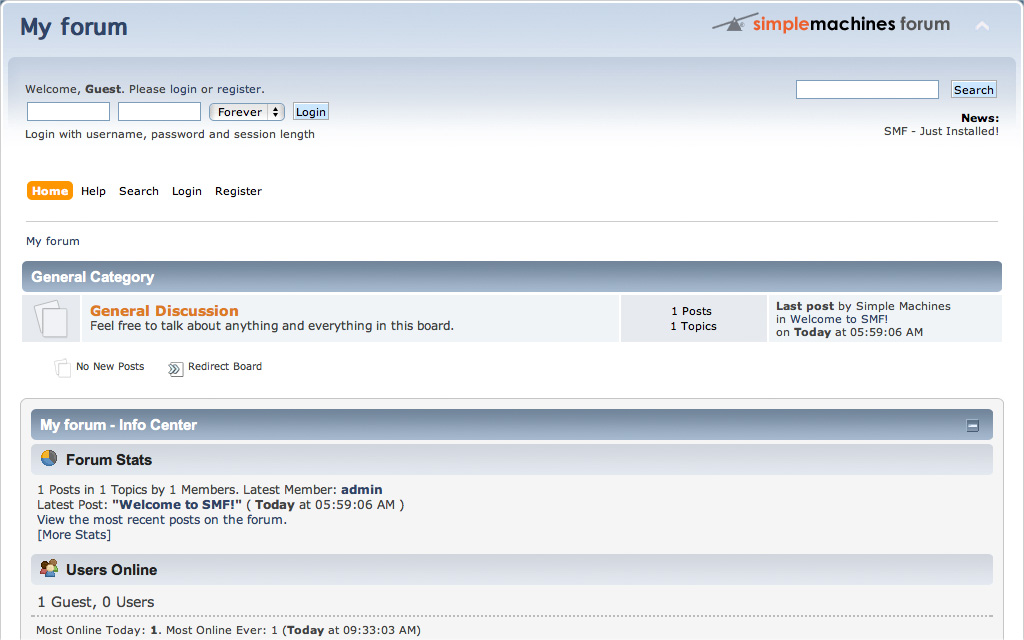 SMF Online Demo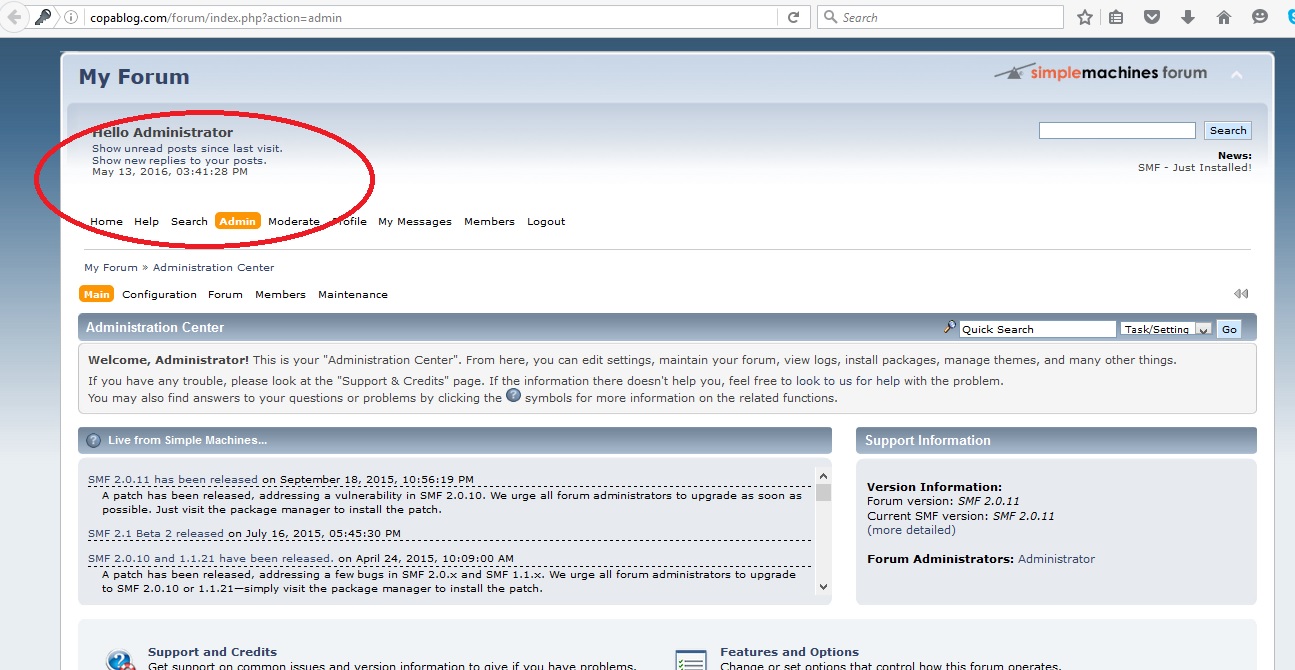 SMF Admin Demo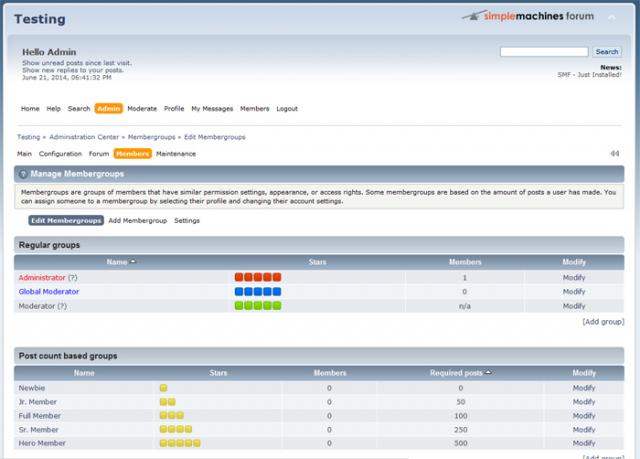 SMF Online Demo