Free SPIP demo installation


SPIP Logo
Want to quickly see how the open-source software SPIP works? You'll find a free and updated demo installation of SPIP here.
Before using this demo please notice:
Option 1: Shared and self resetting SPIP demo
There is a public demo installation of SPIP which is shared with others and resets itself hourly. You can access it by visiting the following link:
Option 2: Request your own SPIP demo installation
You can request a own demo instance with a lifetime of 24 hours. This is ideal if you don't want to have your settings overwritten by other users of this website. Just use the following form and receive a link to your free custom instance within seconds:
About SPIP
SPIP CMS is a content management system written in PHP that uses one or more databases like SQL, SQLite or PostgreSQL. It was initially released in July 2001 and can be used by institutional sites, community portals, academic sites, personal webpages, and news sites. One of the SPIP features is that it allows you to set the lifespan of a page in its presentation skeleton. The pages and information is first stored in the database and then formatted through presentation 'skeletons' that merge HTML and SPIP's own markup language. SPIP relies on its catching system to display pages, and if a page isn't cached and isn't too old it will be displayed.
SPIP features include image processing, multi language support, internationalizing themes and content syndication. You can follow the link below to download the latest version of this content management system and set up your own SPIP demo and go through all the features. The screenshots below will give you a preview of how the admin demo looks like and a few examples of themes. As it is the case with most content management systems out there, you can customize your online demo through themes. Before going through the installation process you need to make sure you follow system requirements. SPIP CMS needs PHP4 or PHP5, a MySQL database and usually an internet account. After setting up your SPIP demo you'll see that this content management system allows you to lay out your articles without the need to use HTML.
The latest version available for download is 3.2 and became available in October 2017 under the GNU General Public License.
Key Facts
| | |
| --- | --- |
| CMS name | SPIP |
| User rating | |
| CMS Categories | CMS / Portals |
| Current version (stable) | 3.2 |
| Latest release date (stable) | 10/01/2017 |
| First release date | 07/01/2001 |
| License | GNU General Public License |
| Supported languages | English, French, Arabic, Asturian language, Bulgarian, Breton, Catalan, Corsican, Réunion Creole, Czech, Danish, German, Esperanto, Spanish, Basque, Farsi, Fon, Galician, Indonesian, Italian, Japanese, Luxembourgish, Dutch, Occitan, Polish, Portuguese, Romanian, Russian, Slovak, Swedish, Turkish, Ukrainian, Vietnamese, Chinese |
| CMS Demo available | (see above) |
| Admin Demo available | (see above) |
| Helpful Links | |
Screenshots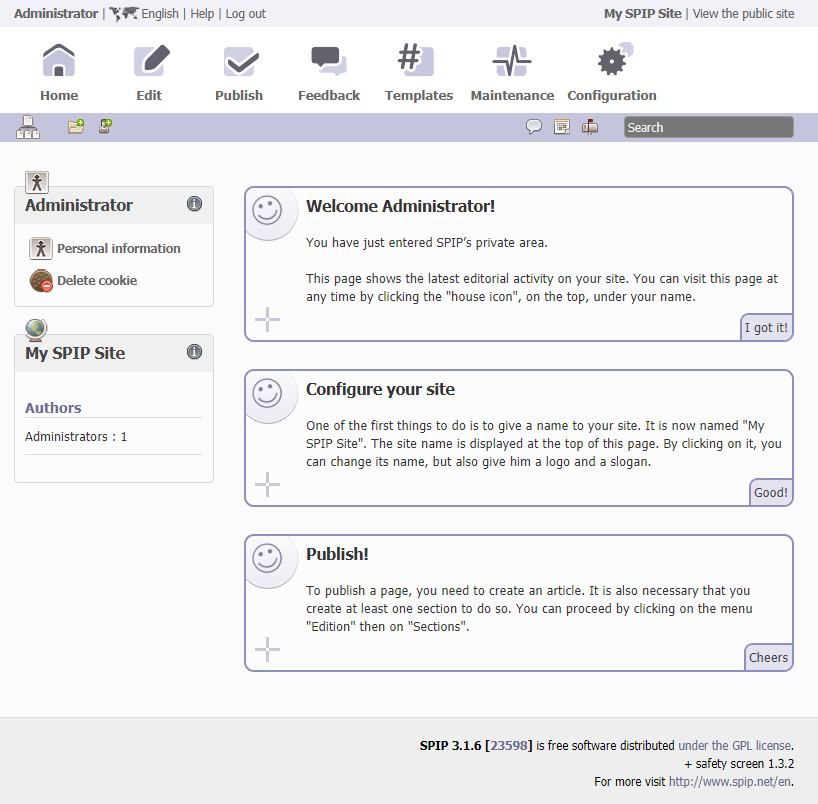 SPIP demo backend

SPIP demo frontend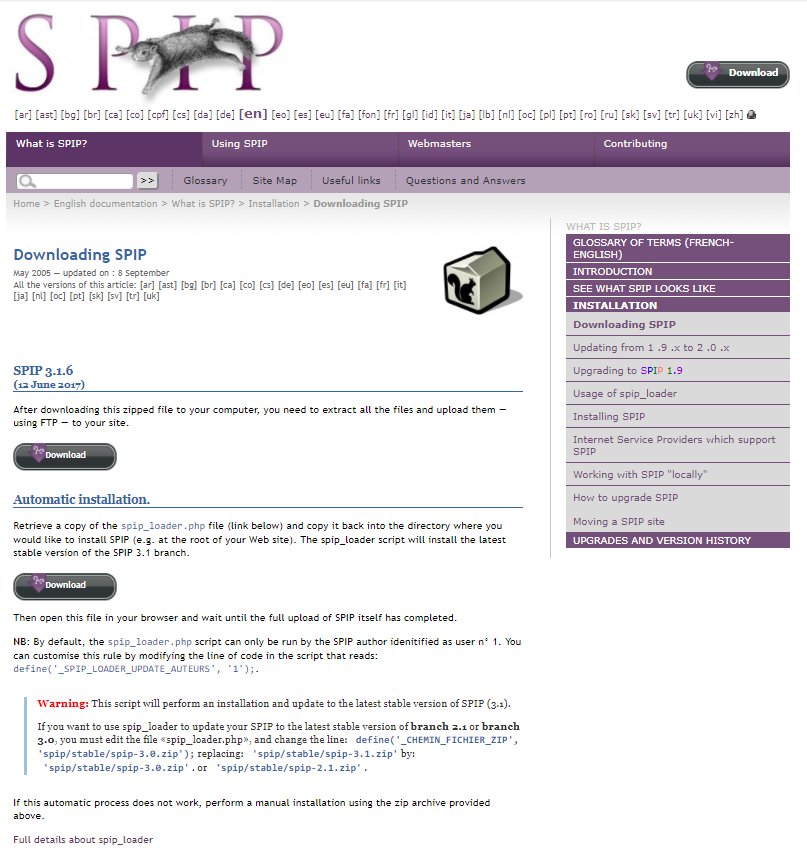 SPIP download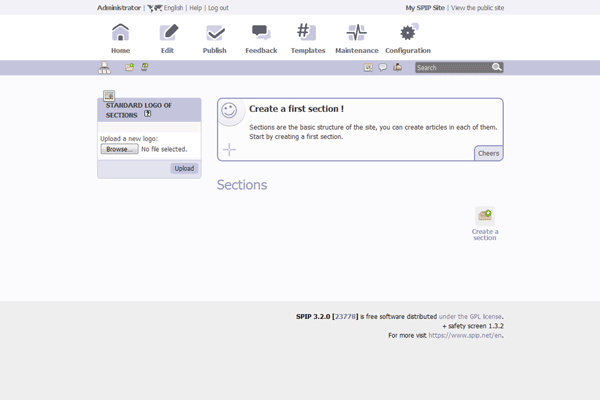 SPIP CMS Admin Demo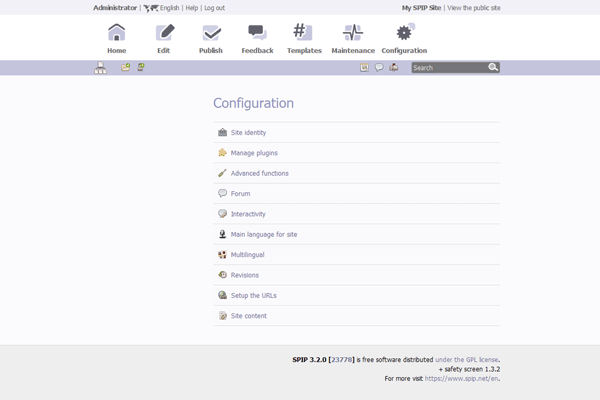 SPIP CMS Admin Demo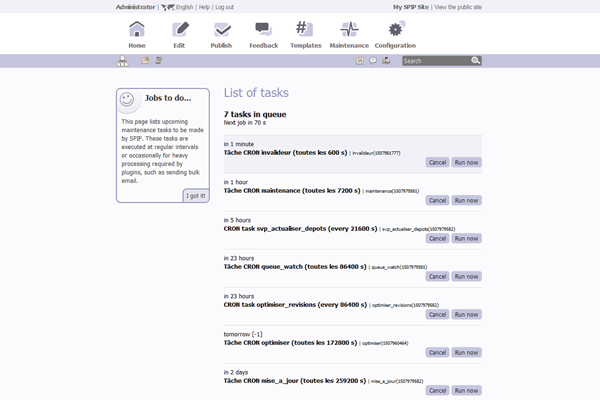 SPIP CMS Admin Demo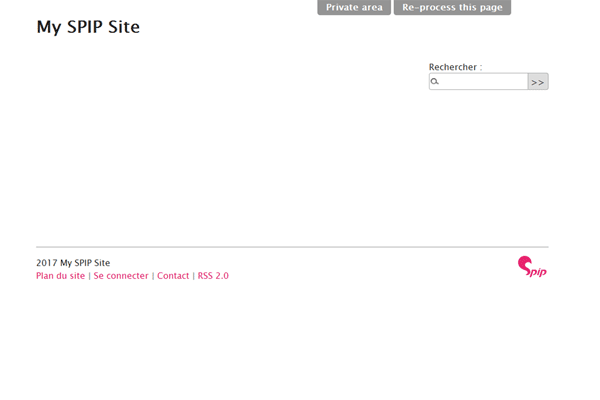 SPIP CMS Theme Example