Free Spitfire demo installation


Spitfire Logo
Want to quickly see how the open-source software Spitfire works? You'll find a free and updated demo installation of Spitfire here.
Before using this demo please notice:
We are currently updating the Spitfire demo. Please check back shortly. There will be a new version up soon.
About Spitfire
Spitfire is an all in one system built by MDX Interactive LLC to handle all business needs from content management system and email marketing to collecting leads and managing your ecommerce needs. It was first released on April 16, 2007 and you can choose one of the three plans available for purchase. Every plan comes with a free 30 days trial, web hosting, integrated analytics and unlimited customer inquiries and RSS feeds.
If you want to get a complete review of this system you can see how a Spitfire demo looks like by registering for a free 30 days trial period. This way you can test all of its features and see how the admin demo looks like. Some examples of features offered by the Spitfire demo are unlimited products and services in your ecommerce shop, sales integrated into the CRM, leads generation and sending an unlimited number of newsletters. You can also customize your online demo using customized designs and themes. Spitfire doesn't require programming skills to manage the content management system or other features and the team of developers offers great support when it comes to migrating entire websites to Spitfire and making adjustments to your Spitfire demo site.
If you like the Spitfire demo you can purchase one of the available packages and get some of the premium features like using your own domain name, collect and process online payments and send and receive emails. Given that Spitfire is a completely web based application you don't have to worry about the installation process, hardware and software maintenance or upgrades. Spitfire focuses on providing all the tools a business needs to succeed and some additional services like custom web design and development, search engine optimization and online marketing and advertising.
Key Facts
Screenshots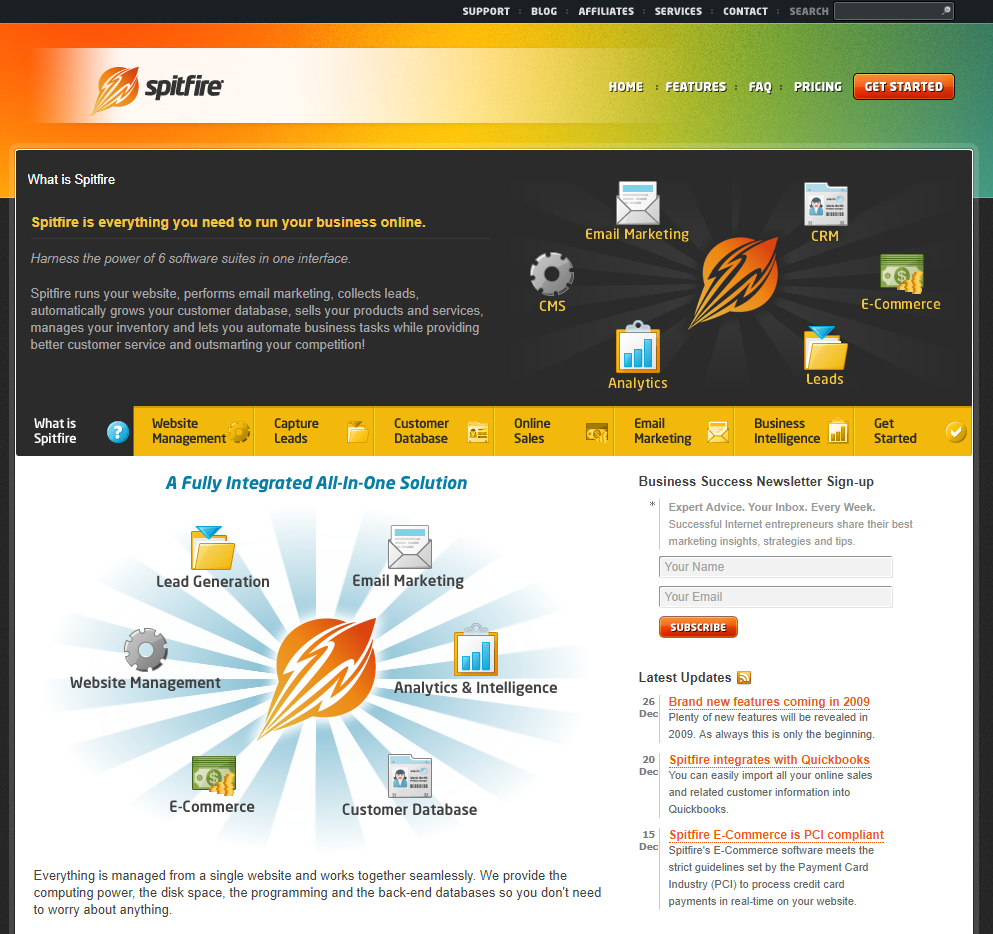 Spitfire website