Free Contao demo installation


Contao Logo
Want to quickly see how the open-source software Contao works? You'll find a free and updated demo installation of Contao here.
Before using this demo please notice:
Option 1: Shared and self resetting Contao demo
There is a public demo installation of Contao which is shared with others and resets itself hourly. You can access it by visiting the following link:
Option 2: Request your own Contao demo installation
You can request a own demo instance with a lifetime of 24 hours. This is ideal if you don't want to have your settings overwritten by other users of this website. Just use the following form and receive a link to your free custom instance within seconds:
About Contao
Contao CMS is a free open source content management system built using PHP as a programming language. Contao CMS was first released in 2006 by Leo Feyer under the name TYPOlight. On June 6, 2010 it changed its name to Contao in order to avoid confusion with another content management system name TYPO3. According to the developer, the word "light" in the name suggested the CMS was only suitable for small projects. Contao CMS is mostly used by medium to large website, as it offers an intuitive web interface for users and a customizable administrator panel for developers.
Contao features focus on making this content management system adaptable to the needs of the user, while offering a search engine friendly and appropriate designs for different devices like desktop, tablet, and smartphone. Contao benefits from an international community of developers that actively works on improving Contao features and releasing new versions. On the community page of Contao CMS you can find out new the most recent news about the content management system, get support, discuss bugs or learn how to develop your own extensions and plugins that will enhance current Contao features.
In terms of design, this content management system allows you to customize the appearance of your website through Contao themes. You can purchase different Contao themes from their official website, from third party developers, or learn how to develop and implement your own Contao theme.
If you're interested in getting a full Contao review you can visit their official website and check out the Contao demo. After you login to the online demo you will be redirected to an admin demo where you can customize how your Conteo demo site looks like. You can also try Contao by going to the CMS download page on their website. Choose the version you want to download and go through the installation process. In order to successfully set up you Contao demo you will need an Apache or IIS webserver, a minimum version of PHP5.2 and at least MySQL 4.1, though version 5.x is recommend and MySQLi is also supported. To preview all your changes and use the Contao demo site you've just created you will need a modern browser, and keep in mind Internet Explorer 6 is definitely not on the list. You will also need to install some PHP extensions, for example GDlib, which is used for image resizing.
The latest version released for Contao CMS is 4.5.6 and it became available for download on 6 March 2018, the same day as version 4.5.5. The software is released under a GNU LGPL free software license. While it was still known as TYPOlight, Contao CMS won second place in the 2007 Packt Publishing awards, in the "Most Promising Open-Source CMS" category.
Key Facts
Screenshots
Contao demo login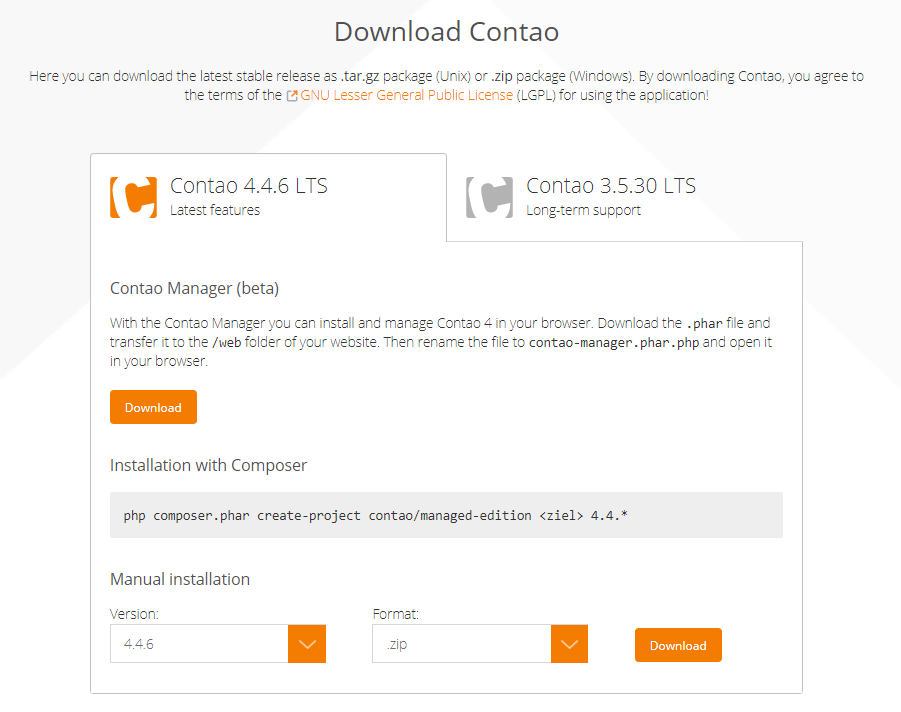 Contao download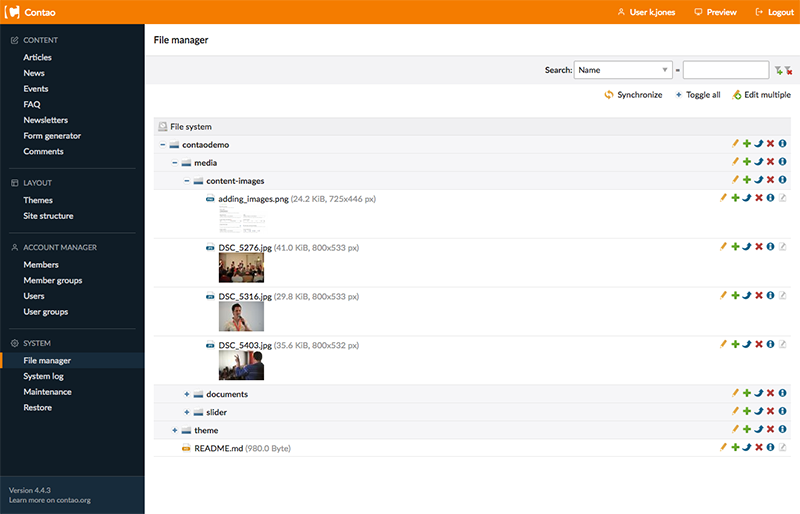 Contao CMS backend file manager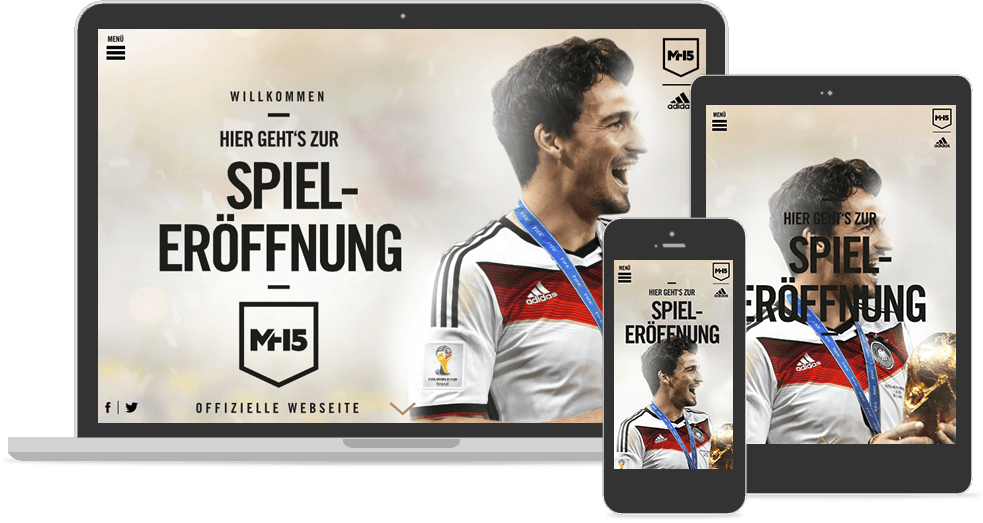 Contao CMS Theme example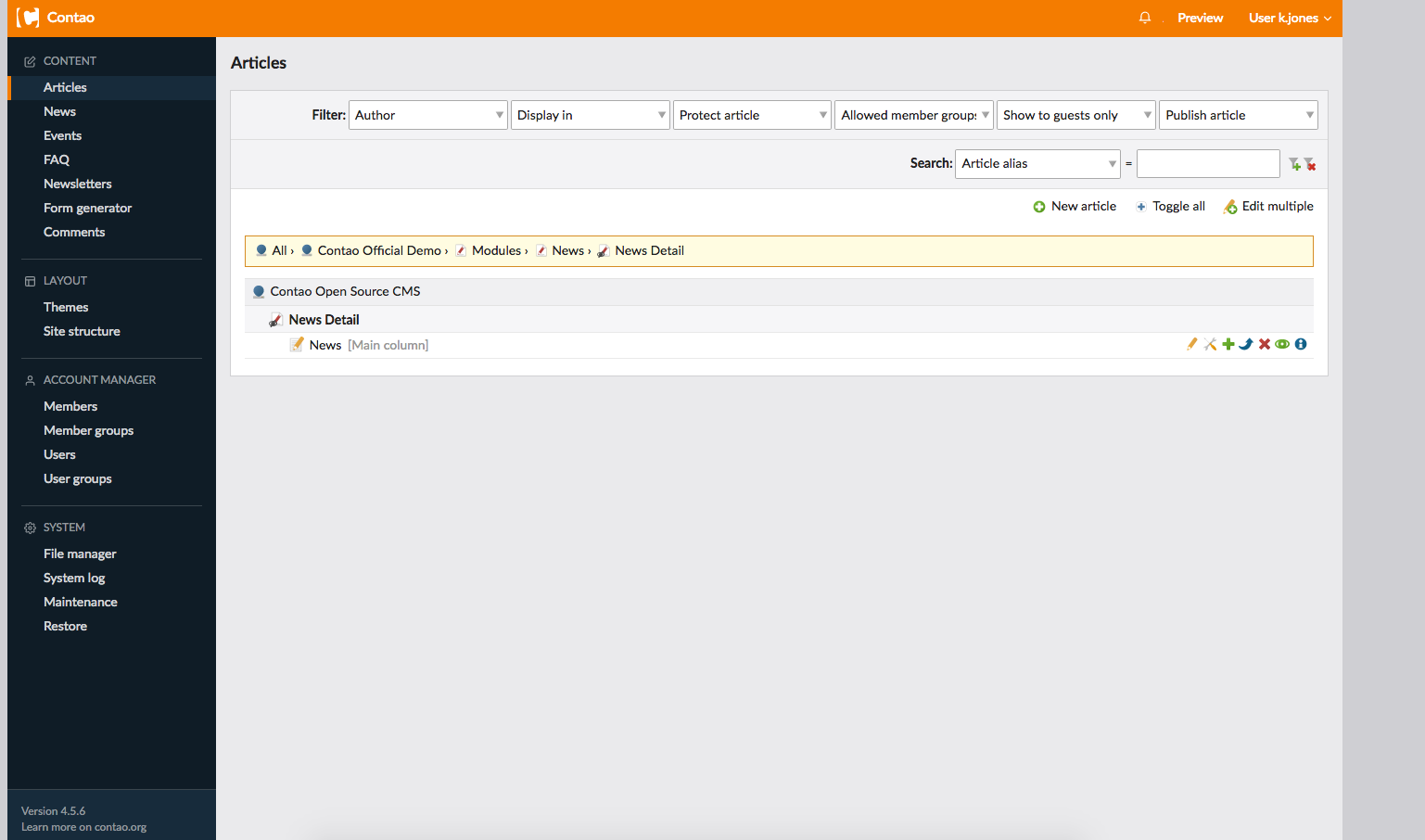 Contao CMS Admin Demo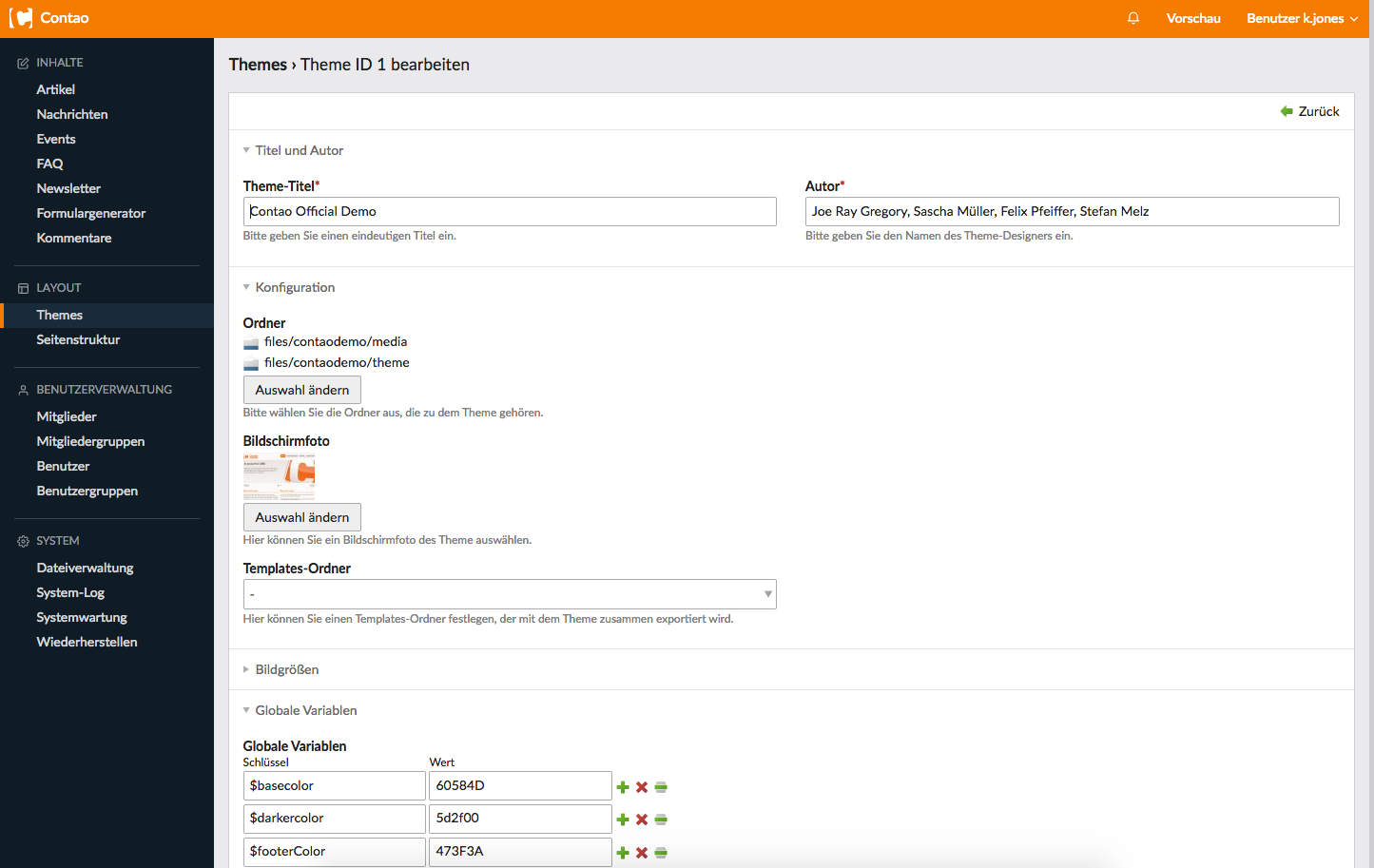 Contao CMS Admin Theme Customization