Free SugarCRM demo installation

SugarCRM Logo
Want to quickly see how the open-source software SugarCRM works? You'll find a free and updated demo installation of SugarCRM here.
Before using this demo please notice:
Option 1: Shared and self resetting SugarCRM demo
There is a public demo installation of SugarCRM which is shared with others and resets itself hourly. You can access it by visiting the following link:
Option 2: Request your own SugarCRM demo installation
You can request a own demo instance with a lifetime of 24 hours. This is ideal if you don't want to have your settings overwritten by other users of this website. Just use the following form and receive a link to your free custom instance within seconds:
About SugarCRM
Sugar CRM is a private customer relationship management system offering a customized solution for any small business or enterprise across the world, created by SugarCRM, a software company based in California, United States.
SugarCRM quickly developed from a simple idea to a successful company selling CRM software and dealing with sales force automation, marketing campaigns, custom support, Social CRM and reporting. In April 2004 its three founders John Roberts, Clint Oram and Jacob Taylor started working full time on the idea and developing a list of SugarCRM features, completely unaware of the fact that success was just around the corner. After incorporating their company in June 2004, SugarCRM received a $2 million investment from Josh B. Stein of DFJ which put a whole different spin on how things turned out. By September 2004, their web application called Sugar Open Space at the time had already been downloaded 25.000 times and in October SugarCRM was named "Project of the Month" on Sourceforge.
The long list of Sugar CRM features, complemented by an intuitive user interface and attention to details have helped this customer relationship management software earn the trust of some of the world's largest organizations like IBM. However, depending on the size of your business you can choose one of the SugarCRM software editions that fit your needs: Sugar Professional, Sugar Enterprise or Sugar Ultimate.
If you're interested in a SugarCRM review and you're eager to see how this customer relationship management software can help solve your problems, you can simply go to the SugarCRM website and watch an online demo. If the examples aren't enough you can always try the Sugar CRM free trial. After you sign up for the 7 days free trial you can choose to login as one of the suggested personas where you can test different SugarCRM features, without the need to download anything or deal with any installation hiccups.
Choosing the admin demo allows you to control all aspects of the customer relationship management software capabilities and offers a complete SugarCRM review. You can also customize your dashboard and choose one of the default SugarCRM themes. Depending on the product version you are currently using you can also purchase other SugarCRM themes from third-party developers who envisioned the software's user interface in a different way.
SugarCRM focuses on delivering high quality services with each version released, so they provide an end-of-life plan for their product versions, encouraging their customers to keep up with the updates. The current SugarCRM version is 7.9.x and it will reach its end of life on November 15th 2018. Extended support will be available for one more year, but after November 15th 2019, SugarCRM will no longer provide customer support, maintenance patches, or bug fixes for that version.
Here are some of the SugarCRM specifications and platform requirements, as well as server requirements and end user requirements for running the Sugar application. Sugar CRM 7.9.x is compatible with any platform version of Linux, Unix, Mac OS that supports PHP. For Windows the supported version is a Windows Server 2012 R2. In terms of databases you can use MySQL 5.6 or 5.7, but the Sugar Ultimate and Enterprise editions also support DB2 and Oracle. In terms of end user requirements, depending on the specific version of Sugar that is being used, the following browsers are supported: Google Chrome from version 57 to 59, Firefox 53 and 54, Internet Explorer 11 and Safari 10.
On April 11, 2010, SugarCRM announced that after the release of version 6.0.0, the Sugar Community Edition would be licensed under the GNU Affero General Public License version 3. You can find out more details about the software and get a preview of the SugarCRM features and packages by visiting their official website.
Key Facts
| | |
| --- | --- |
| CMS name | SugarCRM |
| User rating | |
| CMS Categories | CMS / Portals, eCommerce |
| Current version (stable) | Sugar 7.9x |
| Latest release date (stable) | 05/16/2017 |
| First release date | Unknown |
| License | GNU Affero General Public License version 3 |
| Supported languages | English, Albanian, Arabic, Bulgarian, Catalan, Chinese, Czech, Danish, Dutch, Estonian, Finnish, French, German, Greek, Hebrew, Hungarian, Italian, Japanese, Korean, Latvian, Lithuanian, Norwegian, Polish, Portuguese, Romanian, Russian, Serbian, Slovak, Spanish, Swedish, Turkish, Ukrainian |
| CMS Demo available | (see above) |
| Admin Demo available | (see above) |
| Helpful Links | |
Screenshots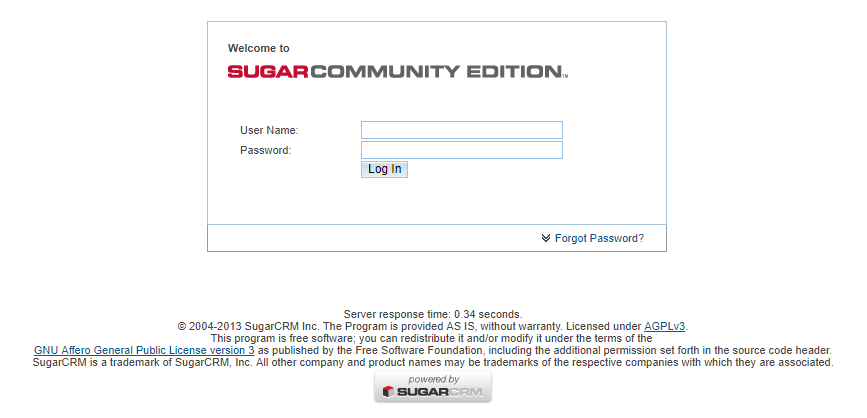 SugarCRM demo login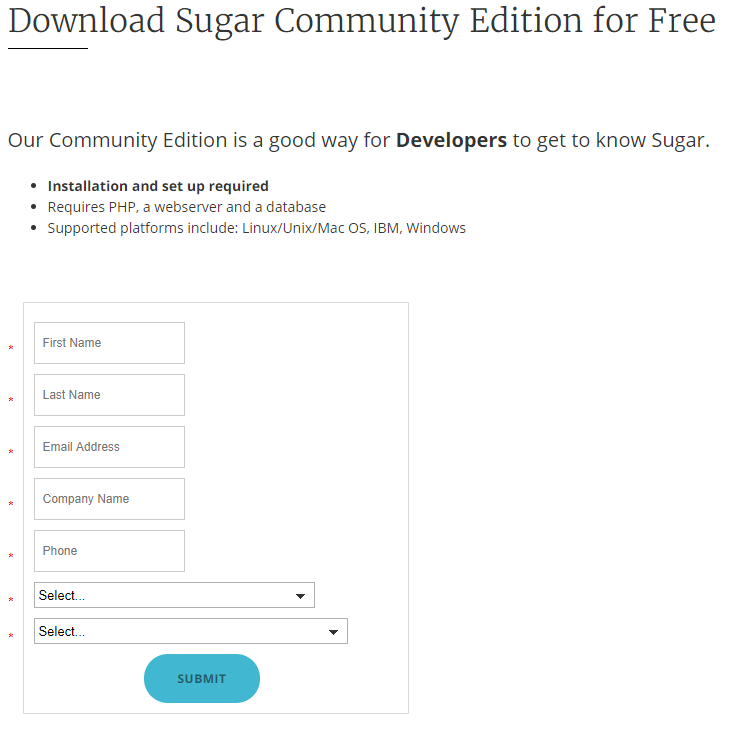 SugarCRM download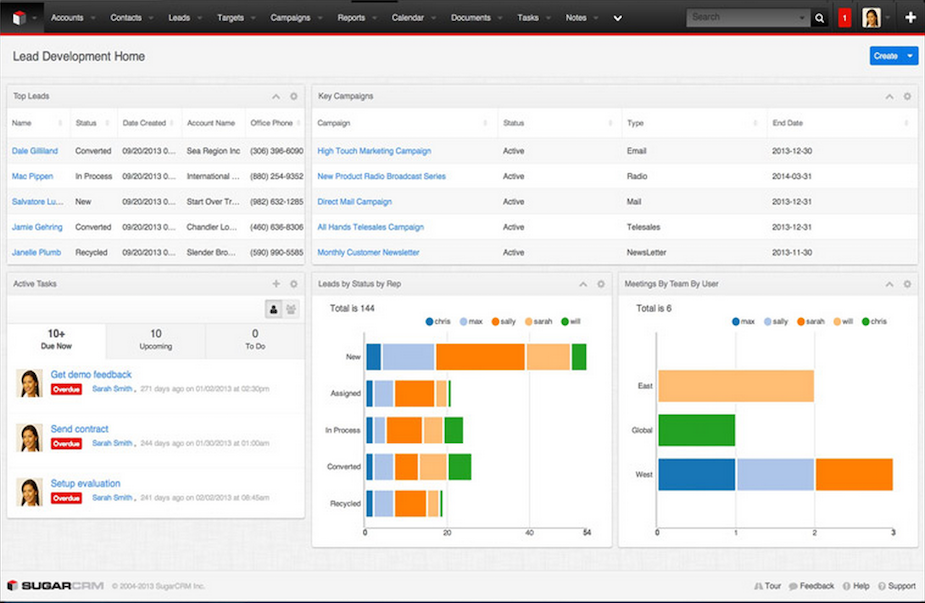 SugarCRM Administration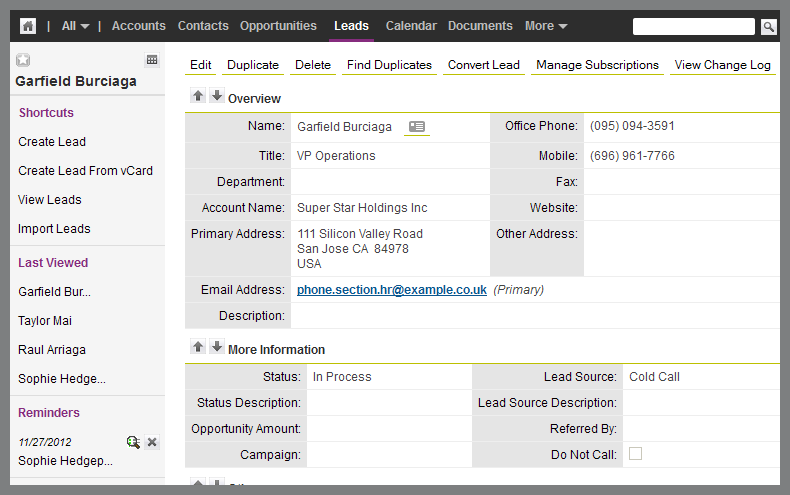 SugarCRM - Google Theme Detail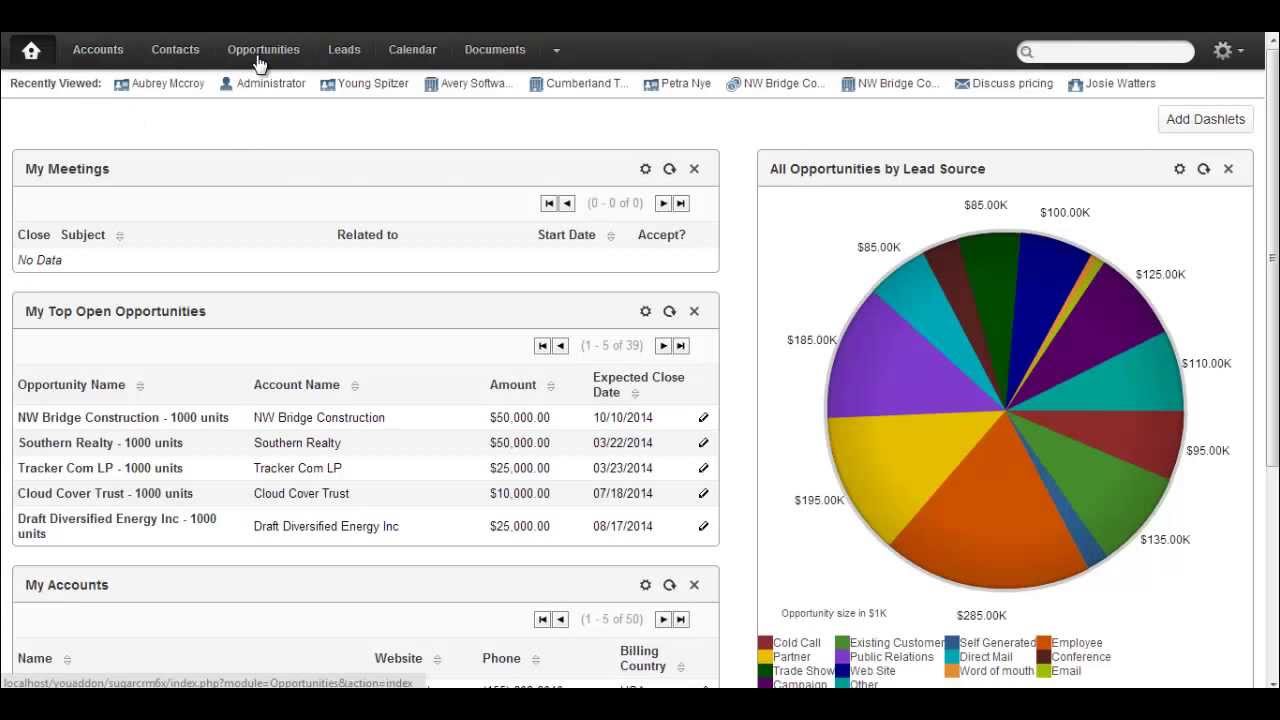 SugarCRM Theme Example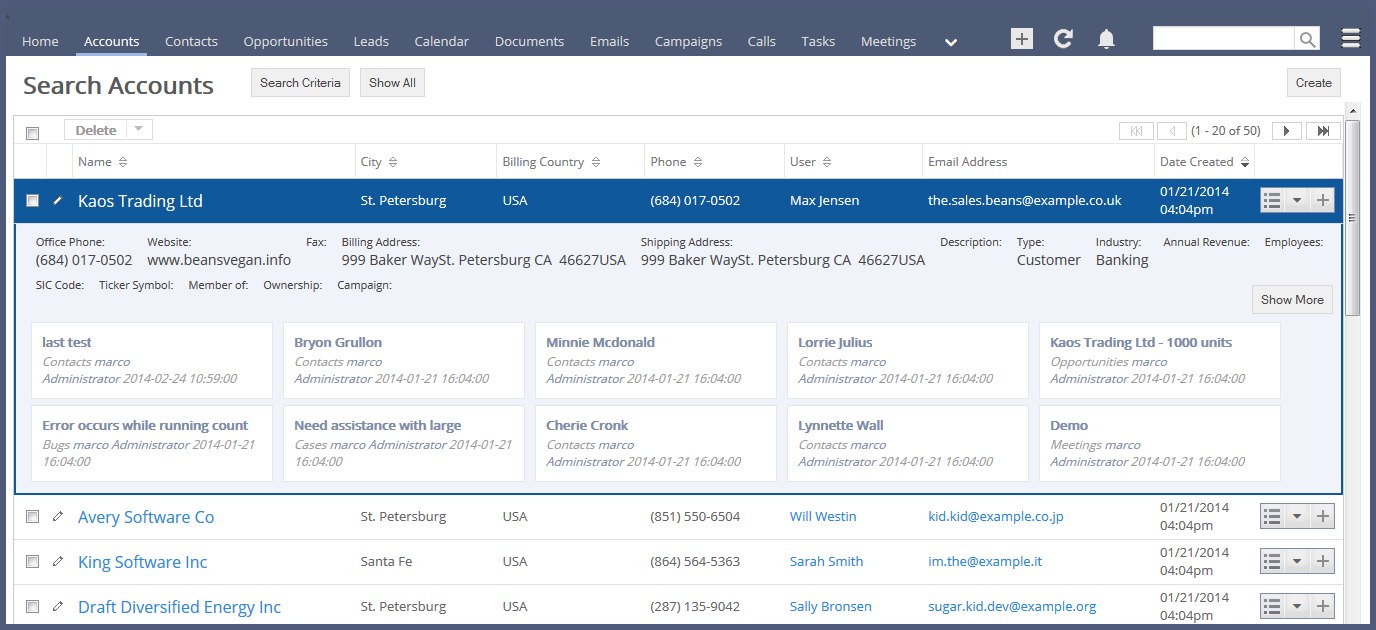 SugarCRM Metro Theme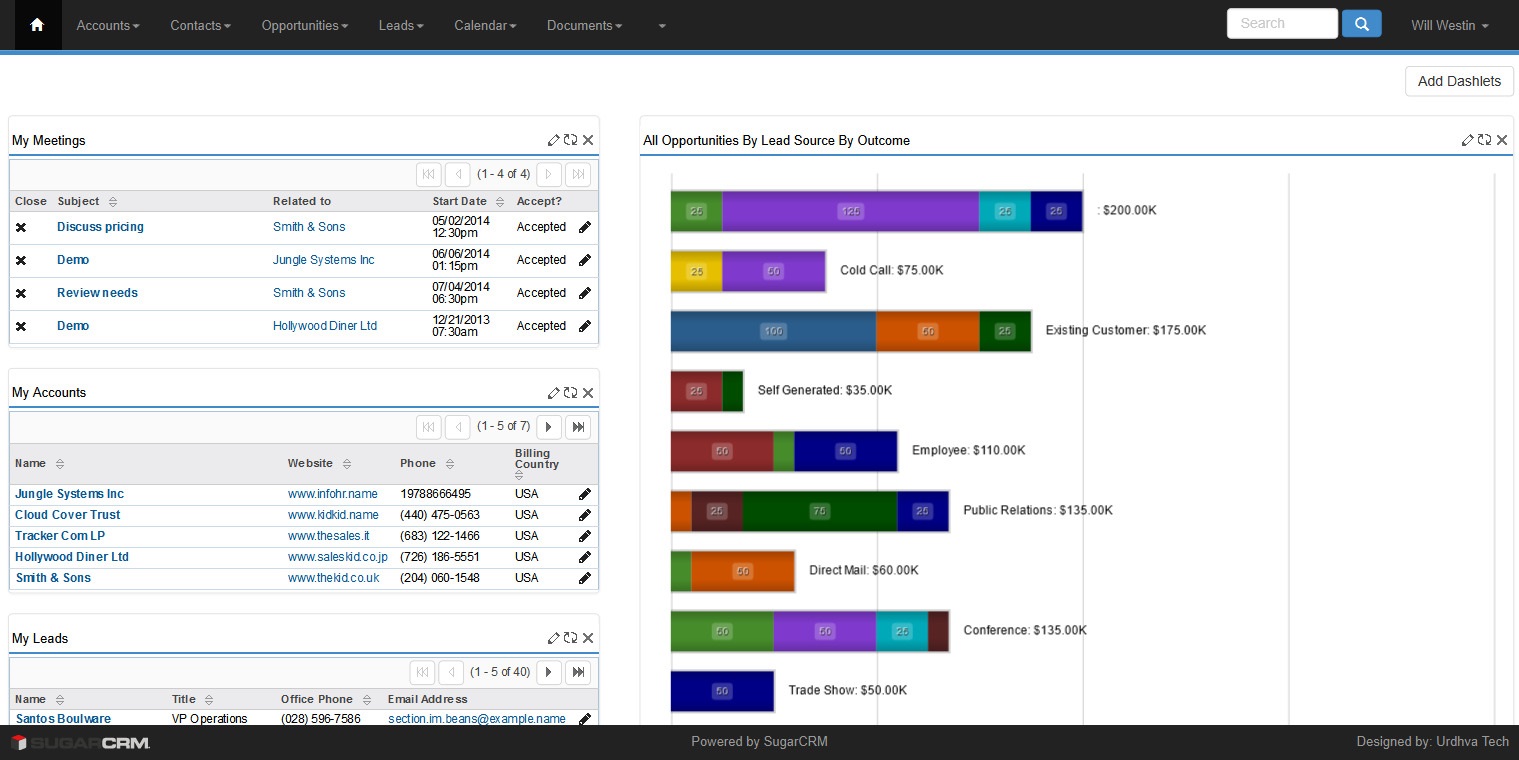 SugarCRM Theme Example