Free Webutler demo installation


Webutler Logo
Want to quickly see how the open-source software Webutler works? You'll find a free and updated demo installation of Webutler here.
Before using this demo please notice:
We are currently updating the Webutler demo. Please check back shortly. There will be a new version up soon.
About Webutler
Webutler is an online page editor for static HTML files. It was developed for webmasters, who want to provide a simple login option for image and text editing in their pages. The system is grown up over the years and became bigger and bigger. If you want to see how a Webutler demo works you can download it by clicking on the link below. This will give you a better idea of the features you can find in a demo site. Webutler requires PHP version 5.4 or higher for the installation to be successful. A Webutler demo allows you to edit and customize HTML pages online, manage menus, blocks and pages separately The latest version available for download is 3.2 and was released on October 18, 2016.
Features
add, rename, delete, en-/disable pages
edit content parts, menus, blocks or full page
inline editing with CKEditor for all content
save pages temporarily and publish later
media manager with upload for any file size
columns, editor pattern, categories and languages
sitemap.xml and canonical tag for SEO
mail recipient management
user management with pages for special user groups
create content in-/output modules with the ModMaker
Key Facts
Screenshots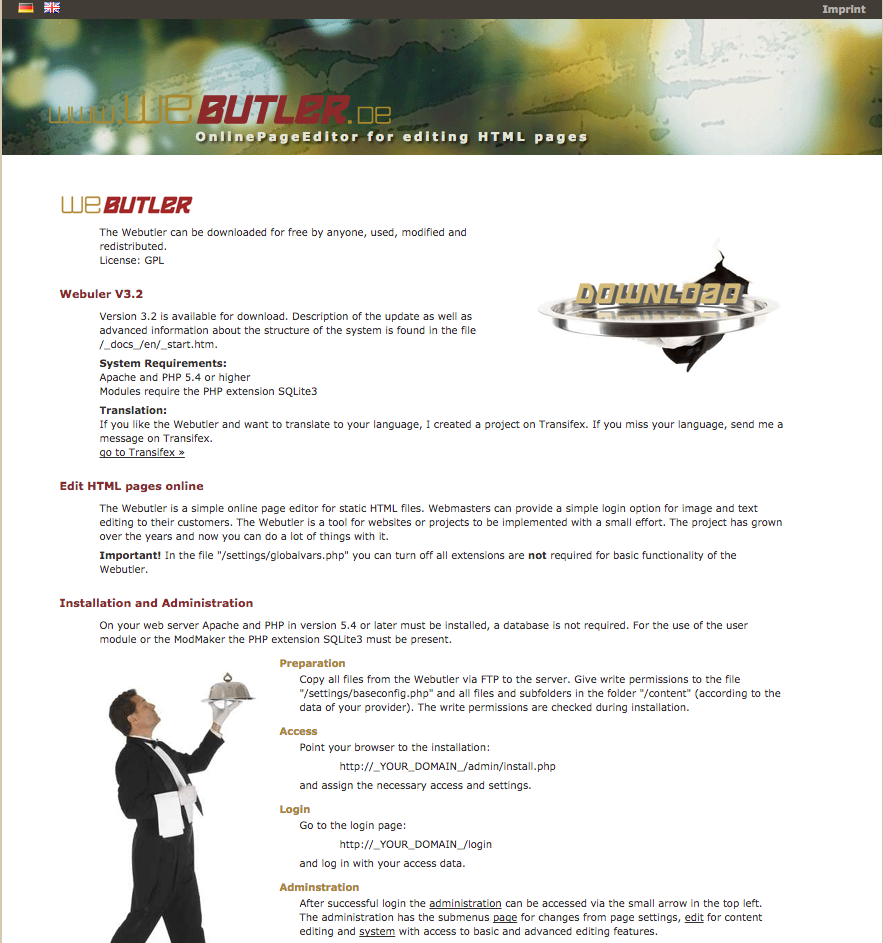 Webutler website